ADEQUAN Z – Approved

Registry:
Zangersheide
Sport –
CWHBA #:
AB-[CAN]APPR4548-13 S
WFFS:
Not Tested/Not Declared
Date of Birth:
2013
Colour:
Dark Bay
Height:
168 CM
Manager:
Prima Showjumpers
Standing:
Okotoks
Contact:
Piet van Genugten
Address:
RR1 site 10 box 10, Okotoks , AB T1S 1A1
Telephone:
4037014631 Fax:
E-Mail:
pvangenugten@gmail.com
Web Site:
www.primashowjumpers.com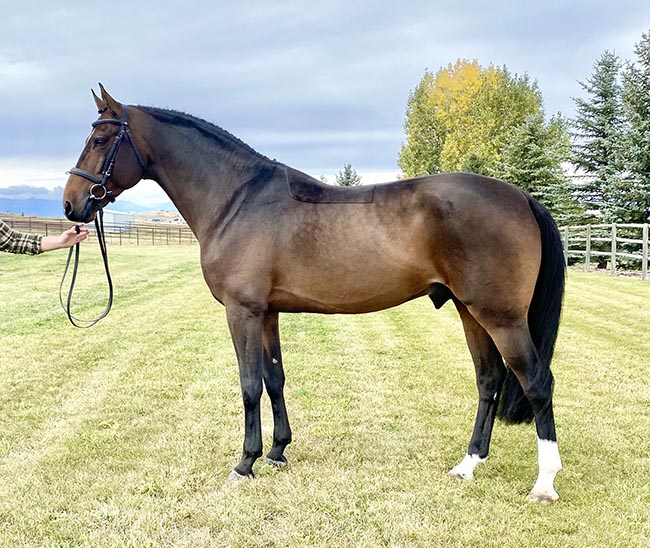 Comments:
Adequan Z is a son of Armstrong van de Kapel who in turn is a son of Quasimodo Z out of a Farn mare.

Quasimodo Z carries the blood from Quidam – Carthago. The father of Adequan, Armstrong vd kapel jumped internationally with Olivier Phillipaerts. He represented Belgium and won the Nations Cup in Hickstead and Lummen, he also won the 2015 world cup for Belgium in Barcelano. And also different international results.

Adequate JVH Z is no accidental product, he comes from a very good mother Caprice she is a daughter of Toulon x CanadianRiver.
This Caprice gave Gladys, she was World Champion at the 5 year old in Zangersheide; bronze at the world championship 7 year old and many more international results. He is currently showing at 1.45m.

She is also the mother of All Star JVH Z this full brother of Adequan JVH Z is also an Armstrong vd Kapel and jumps International with Jan Vermeiren.

Adequan is a youthful stallion with a lot of scope and good reflexes. He will evolve a lot as he gets older. He has a lot of blood and is very simple to ride. In short, a youthful modern sport stallion. Adequan JVH Z himself is now being trained for the sport, where the great expectations of this stallion will come true.


---
Armstrong vd Kapel

KWPN

528003 05.10965

Quasimodo Z
Quidam de Revel
Jalisco B
Dirka
Caloma Z
Carthago Z
Itoloma
Bonnie
Farn
Fax I
Dorette
Viola
Plesman
Primrose

Caprice

BWP

206331

Toulon
Heartbreaker
Nimmerdor
Bacarole
Nikita
Jokinal de Bornival
Hayland-L
Viver van Boeregemveld
Canadian River
Capitol I
Ebelin
Nakota van Boeregemveld
Raphaelo
Dakota
---
Breeding Fee: $1200

Booking Fee: $250

Available by: Transported Cooled Semen,

LFG: Yes

Limitations:
NOTE:
The information on each stallion included in this Directory has been supplied by the owner. While every effort has been made to ensure the complete accuracy of all information, the CWHBA and its officers and officials make no claim or guarantee as to the accuracy of same and cannot be held responsible or liable for errors.
Close Window
---