DACCARDI V – Approved

Registry:
KWPN
CWHBA SPT –
CWHBA #:
ON-[CAN]APPR4175-08 S
WFFS:
Tested Clear (N/N)
Date of Birth:
2008
Colour:
Bay
Height:
17.0 Hands
Manager:
Hans Nibourg
Standing:
Ontario
Contact:
Hans Nibourg
Address:
14864 Elginfield Rd, Lucan, ON N0M 2J0
Telephone:
519 293 3602; 519 225 2634 Fax: 519 293 1130
E-Mail:
hansacr@execulink.com
Web Site: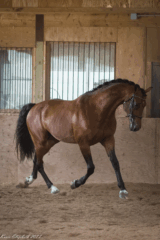 Comments:
CWHBA granted Dccardi V a lifetime breeding approval in September 2018.In the SPT the average score was 100 and a score over 100 was considered above average. Daccardi V scored 105.05 and was the highest scoring Dressage stallion. He received scores of 9 for his character, temperament and willingness, 8's for his rideability, 8.5 and 8 for scope and technique. He scored 7 and 8's for his walk, trot and canter. For the last 18 months he has competed in Dressage and he was able to jump the 1.2M course with ease. He currently is competing in Level 3 Gold Dressage.

Breeding options: Stud fee is $1250.00. A booking fee is $ 350.00 and the balance of $900.00 is due before collection.
Extra costs: collection fee $295.00(includes shipping box) and courier/shipping costs. The live foal guarantee is limited to shipping's of semen. A vet notification is required if the mare is not in foal.

Frozen semen is available for $ 600.00


---
Indoctro

KWPN, several European

90.10488

Capitol 1
Capitano Holst
Corporal
Retina
Folia
Maximus
Vase
Vanessa VII
Caletto II
Cor De La Bryere
Deka
Orgesch H
Calypso I
Iris

Marjan

KPWN

94.13714

Glennridge
Wellington
Nimmerdor
Patty
Aziemieka
Silvano
Puissance
Loesje (Cdn Colours Dame)
Doruto /T.
Komet /Trak
Blitzlicht II /T.
Zesijgje
Graff Van Wittenstein
Jesijgje
---
Breeding Fee: $contact for frozen

Booking Fee: $N/A (Booking Fee Included)

Available by: Transported Cooled Semen, Frozen Semen

LFG: Yes

Limitations: yes – see breeding contract
NOTE:
The information on each stallion included in this Directory has been supplied by the owner. While every effort has been made to ensure the complete accuracy of all information, the CWHBA and its officers and officials make no claim or guarantee as to the accuracy of same and cannot be held responsible or liable for errors.
Close Window
---