DIAMO BLUE – Approved

Registry:
Oldenburg
100 Day Test –
CWHBA #:
ON-[CAN]APPR4423-11 S
WFFS:
Tested Clear (N/N)
Date of Birth:
2011
Colour:
Bay
Height:
17.1 Hands
Owner:
Augustin Walch
Standing:
W. Charlot Farms
Contact:
Inge Walch-Allard
Address:
RR # 3, # 3780 Road 122, Stratford, ON N5A 6S4
Telephone:
519-271-5322; Fax: 519-271-4021
E-Mail:
office@wcharlotfarm.com
Web Site:
www.charlotfarm.com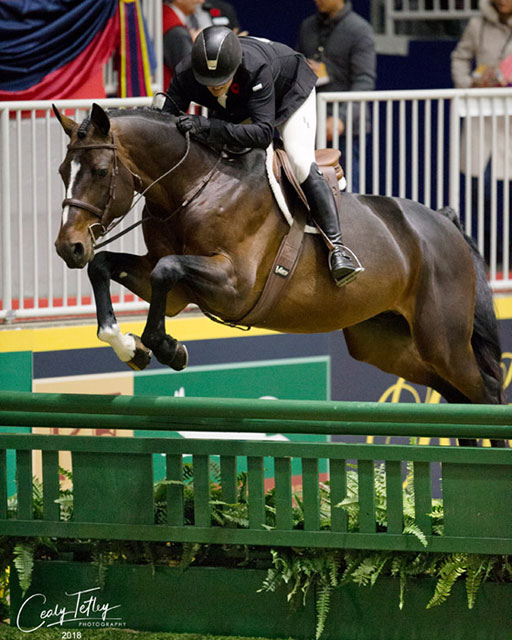 Comments:
Diamo Blue carries the bloodlines of the TOP two stallions of the WBFSH/ROLEX Jumping Sire Rankings for 2017 and 2018: Chacco Blue and Diamant de Semilly. We are thrilled to be able to offer a stallion with such amazing show jumping bloodlines to mare owners in North America.

Diamo Blue completed the 70 day stallion test in 2015 and was imported to North America in the fall of 2015. He competed successfully in young horse jumper classes both in Florida and in Ontario in 2016 and 2017.

Diamo Blue excelled in his first show season competing in the hunter ring in 2018. He won the Hunter Derby at the Royal West in Calgary and claimed the Canadian Reserve Championship Title in the Combined Hunters at the Royal Winter Fair in Toronto.

True to his bloodlines, Diamo Blue combines athleticism and unbelievable scope with an amateur friendly temperament.

We have high hopes for this young stallion whose pedigree combines many of Europe's top show jumping producers.

His sire Diarado was champion at the licensing and champion at the stallion performance test achieving dream scores of 10 for jumping. Diarado has many licensed sons and was number 1 of the German FN show jumping breeding stallion ranking (Zuchtwertschaetzung) in 2013.

Diamant de Semilly has been one of the best show jumping sires worldwide for many years and had the highest number of offspring of any stallion competing at the 2014 World Equestrian Games in France.

The dam's sire Chacco Blue was a successful international Grand Prix jumper who has sired many licensed stallion and international show jumpers before he passed away at a very young age. Chacco Blue is the WBFHS/Rolex No. 1 Jumping Sire for 2017 and 2018 !

Diamo Blue's semen is excellent and will be shipped as a domestic shipment out of Buffalo, NY to US based mare owners in 2019.

---
Diarado

Holsteiner

339405

Diamant de Semilly
Le Tot de Semilly
Grand Veneur
Venue de Tot
Venise de Cresles
Elf III
Miss de Cresles
Roxette I
Corrado I
Cor de la Bryere
Soleil
Kimberly III
Contender
Option

Verb.St.Pr. Elfenblau

Oldenburg

330262906

Chacco-Blue
Chambertin
Cambridge
Desiree VII
Contara
Contender
Gohahra II
Verb.St.Pr. Elfenland
Landadel
Landgraf I
Novella
St.Pr.El. Elfenbrauch
Ansas
Verb.St.Pr. Elfenkrone
---
Breeding Fee: $1,500

Booking Fee: $n/a (Booking Fee Included)

Available by: Transported Cooled Semen,

LFG: Yes

Limitations: Fresh; shipped out of Buffalo, NY to US based mare owners
NOTE:
The information on each stallion included in this Directory has been supplied by the owner. While every effort has been made to ensure the complete accuracy of all information, the CWHBA and its officers and officials make no claim or guarantee as to the accuracy of same and cannot be held responsible or liable for errors.
Close Window
---