KENNER * – Approved

Registry:
Canadian Warmblood
CWHBA SPT – Olds, AB
CWHBA #:
BC-[CAN]1860-00 S
WFFS:
Tested Clear (N/N)
Date of Birth:
2000
Colour:
Bay
Height:
16.3 Hands
Manager:
Mirrabook Farms Sport Horses
Standing:
AgWest, Langley, BC
Contact:
Marilyn Powell
Address:
6388 Weir Rd., Knutsford, BC V0E 2A0
Telephone:
250-374-4045 Fax:
E-Mail:
inquire@mirrabookfarms.com
Web Site:
www.mirrabookrafter5warmbloods.com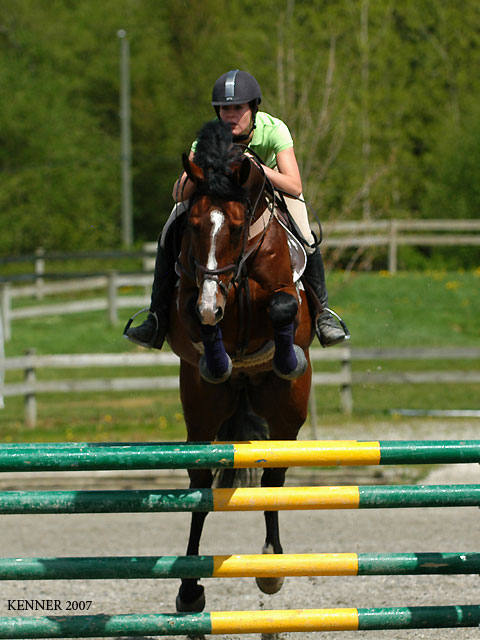 Comments:
*** Kenner is Nominated to the 2023 Stallion Service Auction only; he is not activated for 2023, however, his foals of 2024 are eligible for registration on payment of a Breeding Certificate fee. Kenner is available by proven Frozen Semen only, the property of Mirrabook Farms.***
Like his sire Kingston, Kenner shows talent for both dressage & jumping with strong willingness to work; excellent character, and a beautiful easy going temperament. He is a very powerful mover with a huge gallop.
Champion of his licensing, he was scored a '9' on his jumping where he showed a 'scopey, nice bascule and powerful, good technique behind'; he further impressed at his Performance Test giving both judges & riders a good feeling in scope & style of jump. With his good conformation he was also scored an '8' on correctness of gaits.
Kenner demonstrates under saddle the easy going nature of his sire, with a great willingness to work. At his Performance Test in 2005 he was described by the judges as 'being a good natured stallion, versatile, and predominantly a stallion in jumping'.
Test Riders described him as 'tried really hard; good rhythm in canter; good feeling of scope and style; great expression; moved well off leg'. Erynn Ballard immediately identified the influence of 'Lucky Boy' in both his appearance and ride! While as owners we wished he had more time under saddle prior to the test, we were thrilled that all test riders enjoyed riding him and he worked willingly for all of them.
Kenner is available by frozen semen only. He has finished his sport career and is now the grand age of 23, retiring sound after competing in the Jumper and Hunter rings with an Amateur and securing a championship in the Hunter ring in 2021.
Kenner sired the 2005 BC Foal Futurity winner from his first foal crop – Kieko SRF, owned and bred by Su Bright. He has also sired several Premium daughters.
---
Kingston

Canadian Warmblood

BC-305-92 S

Martins Worry xx
Royal Martin xx
Royal Charger GB
Revival GB
Worry Today xx
Mustango
Worry Manna
Ariena – ster
Naturel – keur
Lucky Boy – pref
Durena – ster pref
Odette
Kristal – pref
Hariena

F.Lady Luck *Elite*

Dutch Warmblood

BC-APPR1149-87 MM

Octrooi (Best Of Luck)
Lucky Boy – pref
Compromise xx
Sejane xx
Ilonka
Koridon
Charmante
Sulieka
Lotto
Talisman xx BB
Hystha
Zally
Romeo
Lassy
---
Breeding Fee: $750 + GST

Booking Fee: $n/a

Available by: Frozen Semen

LFG: No

Limitations: FS only
NOTE:
The information on each stallion included in this Directory has been supplied by the owner. While every effort has been made to ensure the complete accuracy of all information, the CWHBA and its officers and officials make no claim or guarantee as to the accuracy of same and cannot be held responsible or liable for errors.
Close Window
---