OLYMPIC VAN'T KONINSBOS – Approved

Registry:
BWP
Sport –
CWHBA #:
Unknown
WFFS:
Negative
Date of Birth:
2014
Colour:
Dark Brown
Height:
1m 74cm
Manager:
Prima Showjumpers
Standing:
Prima Showjumpers, Okotoks
Contact:
Piet van Genugten
Address:
RR1 site 10 box 10, Okotoks , AB T1S 1A1
Telephone:
403 701 4631 Fax:
E-Mail:
pvangenugten@gmail.com
Web Site:
www.primashowjumpers.com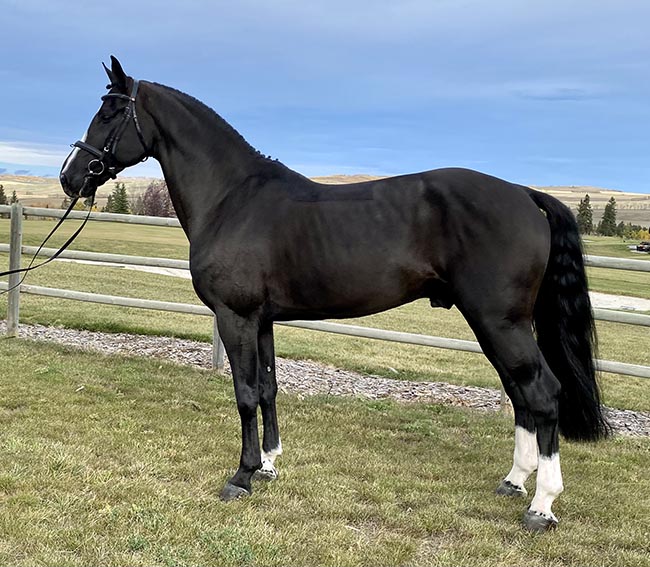 Comments:
Olympic van 'T Koningsbos is a young and talented jumper by the top producer Kannan. Dam Imogen De Regor is competing grand prix in show jumping and is also mother to Latisha De Regor, who won the final of the BWP free jumping in 2014 as a 3-year old. We know several successful descendants of grandmother Centa De Muze, such as Freestyle De Muze, who became 3rd under Richie Moloney in the 2014 World Cup in Bridgehampton (USA) and Horizon De Regor, who Jos Lansink is competing at international level. Full sister of Centa De Muze is Daytona De Muze, who already has several great successes with Jody Bosteels. Olympic van 'T Koningsbos is easy to ride, has a lot of power, 3 good gaits and is very careful. Currently at the 1.30m level.


---
Kannan

KWPN

92.4130

Voltaire
Furioso II
Furioso
Dame de Ranville
Gogo Möeve
Gotthard
Mosaik
Cemeta
Nimmerdor
Farn
Ramonaa
Wozieta
Le Mexico
Rozieta

Imogen de Regor

BWP

268011-08Dar

Darco
Lugano van la Roche
Lugano I
Alderflut
Ocoucha
Codex
Latoucha
Centa de Muze
Cento
Capitol I
Viola XI
Walloon de Muze
Nabab de Reve
Querly Chin
---
Breeding Fee: $1500

Booking Fee: $0

Available by: Fresh Cooled Semen

LFG: Yes

Limitations: Only first collection included in breeding fee.
NOTE:
The information on each stallion included in this Directory has been supplied by the owner. While every effort has been made to ensure the complete accuracy of all information, the CWHBA and its officers and officials make no claim or guarantee as to the accuracy of same and cannot be held responsible or liable for errors.
Close Window
---