QUIDAM BLUE – Approved

Registry:
Hanoverian
100 Day Test – Warendorf, Germany
CWHBA #:
AB-[CAN]APPR3447-05 S
WFFS:
Tested Clear (N/N)
Date of Birth:
2005
Colour:
grey
Height:
16.2 Hands
Manager:
Equitop Farm
Standing:
New Norway, AB
Contact:
Equitop Farm or the Brinkmanns
Address:
RR1, New Norway, AB T0B 3L0
Telephone:
780 855 2477 780 608-0160 Fax:
E-Mail:
brinkmann@ equitopfarm.com
Web Site:
www.equitopfarm.com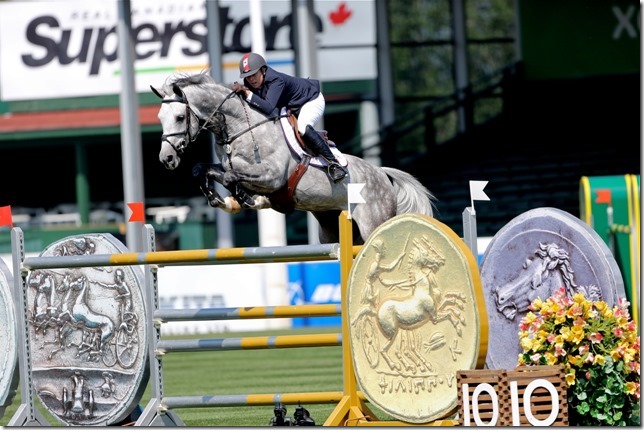 Comments:
Quidam Blue is an international Grand Prix jumper (licensed and approved by the German Hanoverian Verband): he is a gem to have in the stable — a beautiful athlete that loves his work and his people.

Quidam Blue started his show career winning the Five-Year-Old Western Canadian Young Horse Championship. As a young head-turner he collected ribbons at venues like Spruce Meadows under his amateur rider Beke Brinkmann, and played his way into the 1.30 m division. In 2014 he quickly entered the 1.50m level with Olympic Silver medalist Jill Henselwood. Together their highlights include Top 3 finishes as part of the Canadian Team at the Furusiyya FEI Nations Cup in Bratislava , in the Wild Card Smart Pack Grand Prix at Saugerties New York, winning the SynOil Energy Services CSI** Cup at the Royal West in Calgary; he added numerous placings in the 1.60 m level in the following years.



Quidam Blue is now available as a breeding stallion, with fresh and frozen semen, after serious injury shortened his jumping career. During his own training he has always impressed his dressage and jumper coaches alike; he has become known to pass on his natural ability for collection, his clean gaits and a superb canter – with his offspring suiting both amateurs and professionals alike. So far his eldest offspring have won in the hunter/jumper and 3-day eventing and are in demand throughout North America.

All in 2019, Quidam Blue was the sire of the Champion Hanoverian Jumper foal (Canada), the high scoring filly of the Belgian Warmblood Association (North America) and the third place jumper foal of all KWPN inspections in NA – no coincidence, as Quidam Blue's pedigree is filled with famous French, Holsteiner and Westfalen jumping bloodlines, including the names of Quidam de Revel, Landgraf I, Come On, Cantus, Pilot and Weinberg.
---
Quidam's Rubin

Holsteiner

DE321 21 01284 99

Quidam de Revel
JaliscoB
Alme Z
Tanagra
Dirka
Nankin
Ondine de Baughy
Helvecia
Landgraf
Ladykiller xx
Warthburg
Betty I
Caletto I
Vega

Capri

Hanoverian

DE331 31 98226 96

Come On
Cantus
Caletto I
Monoline
Suehne
Landgraf I
Buehne
Perleberg
Pilot
Pilatus
Gratia
Wanda
Weinberg
Dalana
---
Breeding Fee: $2000 $Can

Booking Fee: $Included (Booking Fee Included)

Available by: On Farm A.I., Transported Cooled Semen, Frozen Semen

LFG: Yes

Limitations: Fresh or Frozen Available
NOTE:
The information on each stallion included in this Directory has been supplied by the owner. While every effort has been made to ensure the complete accuracy of all information, the CWHBA and its officers and officials make no claim or guarantee as to the accuracy of same and cannot be held responsible or liable for errors.
Close Window
---