SIR VARI – Licensed

Registry:
Hanoverian

CWHBA #:
ON-CANAPPR4701-17 S
WFFS:
Negative
Date of Birth:
2017
Colour:
Black
Height:
16.3 Hands
Owner:
Sheri Whittaker
Standing:
Fox Hill Farm
Contact:
Sheri Whittaker
Address:
2206 Bridge Street New Dundee, Ontario N0B 2E0
Telephone:
(519) 240-0998
E-Mail:
foxhillfarm@hotmail.com
Web Site:
https://www.foxhillfarmequestrian.com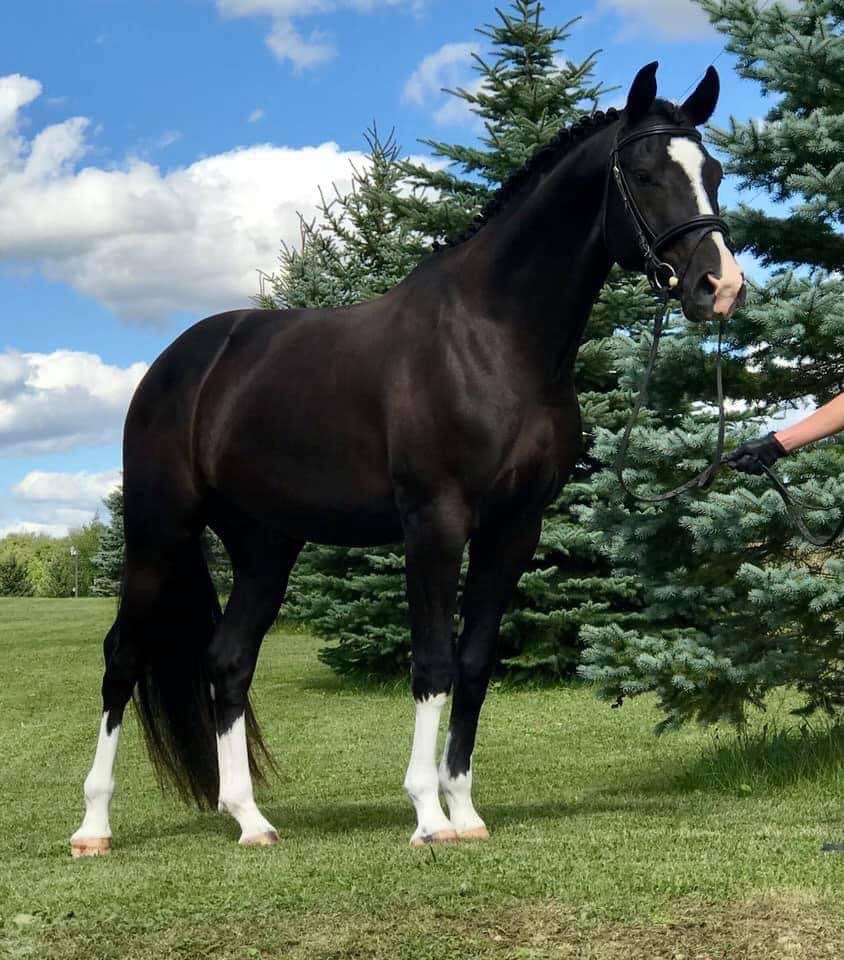 Comments:
SIR VARI is a beautiful modern type with a phenomenally kind disposition, fancy step and an excellent work ethic. SIR VARI is already making top professionals in our sport take notice across North America.
SIR VARI stands a picturesque 16.3 hands with a jet black coat and chrome for days, which make him a total stand out. Sir Vari has consistent steady and light / forward movement combined with an elegant overall way of going. Sir Vari is a very sweet hearted stallion with a keen desire to please.
SIR VARI's sire is the famous elite Hanoverian sire, Sir Wanabi who has proven himself time time again by producing outstanding offspring over his long standing career. Easily one of the most recognizable names affiliated with superb amateur show horses competing today across NA.
Dam sire, Bon Balou was licensed Hanoverian in Verden in 2008. Bon Balou had an outstanding jumping ability combined with excellent, active paces as well as an excellent temperament. Bon Balou was named Jumper Champion at the 70 day stallion test at Silver Creek Farm in Oklahoma where he earned a perfect "10" for his free jump and ride ability.
Sir Vari is licensed for breeding with *Oldenburg NA ISR *Canadian Sport Horse Association *Canadian Warmblood ( Additional licensing pending )
WFFS and EVA Negative
Follow Sir Vari on Facebook @sirvari
Fresh breeding contract $1,500 CAD $1,200 USD First collection included 2 year contract LFG HST applicable for Canadians.
---
Sir Wanabi

Hanoverian

431319898702e

Santorini
Sunlight
Tarim
Sunflower
Dornroeschen
Dirk
Aretta
Lilly Germaine
Lortzing
Lombard
Kaiserin
Loretta
Leibwaechter
Azorella

Bon Valdora

Hanoverian

DE431319694113

Bon Balou
Balou du Rouet
Baloubet du Rouet
Georgia
La Belle
Argentius
Larika
Liberty
Longchamp
Lauries Crusader
Eileen
Lenare
Lepanto
Desiree
---
Breeding Fee: $1500.00

Booking Fee: $300.00

Available by: fresh

LFG: Yes

Limitations: 2 year contract
NOTE:
The information on each stallion included in this Directory has been supplied by the owner. While every effort has been made to ensure the complete accuracy of all information, the CWHBA and its officers and officials make no claim or guarantee as to the accuracy of same and cannot be held responsible or liable for errors.
Close Window
---