TIERNAN – T – Licensed

Registry:
Trakehner
Licensed –
CWHBA #:
SK-(CAN)APPR4628-10 S
WFFS:
Negative
Date of Birth:
2010
Colour:
Dark Brown
Height:
166 CM
Owner:
Judy Kirkby, Judlenn Farms
Standing:
Judlenn Farms, Martensville, Sk.
Contact:
Judy Kirkby
Address:
PO Box 509, Martensville, SK S0K 2T0
Telephone:
306-931-8028 Fax:
E-Mail:
judlenn@sasktel.net
Web Site: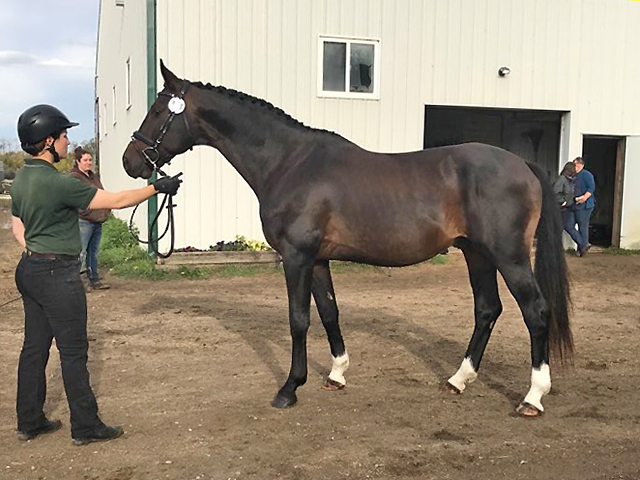 Comments:
---
E.H.Manrico – T

Trakehner Verband

DEU 30909011792

Gypsy King
Camelot
Arsenal
Catalina
St.Pr.St. Grazie
E.H. Arogno
E.St. Galante V
Marcia II
Vincent
Ibikus
Viktoria II
E.St. Maike
Donauwind
Monika

Pr.St. Thalabana – T

Trakehner Verband

DE 409090016306, CTHS 1179

E.H. Buddenbrock
E.H. Sixtus
Habicht
Stradelle
E.St. Ballerina XXV
Diamant
Pr.St.u.E.St.Blinklicht
St.Pr.u.PR.St.Tramontana M
Humanus
E.H. Maizauber
Heublume II
Tiffany XI
Timber
Tarabiscote
---
Breeding Fee: $1050. GST Inc.

Booking Fee: $200 (Booking Fee Included)

Available by: Live, Transported Cooled Semen,

LFG: Yes

Limitations:
NOTE:
The information on each stallion included in this Directory has been supplied by the owner. While every effort has been made to ensure the complete accuracy of all information, the CWHBA and its officers and officials make no claim or guarantee as to the accuracy of same and cannot be held responsible or liable for errors.
Close Window
---