CABARDINO – Approved

Registry:
Holsteiner
100 Day Test – Neustadt/Dosse
CWHBA #:
ON-[CAN]APPR2820-99 S
WFFS:
Tested Clear (N/N)
Date of Birth:
1999
Colour:
bay
Height:
16.1 Hands
Owner:
Augustin G. Walch
Standing:
W. Charlot Farm, ON
Contact:
Inge Walch-Allard
Address:
3780 Road 122, Stratford, ON N5A6S4
Telephone:
519 271-5322 519 801-2000 Fax: 519-271-4021
E-Mail:
office@wcharlotfarm.com
Web Site:
www.charlotfarm.com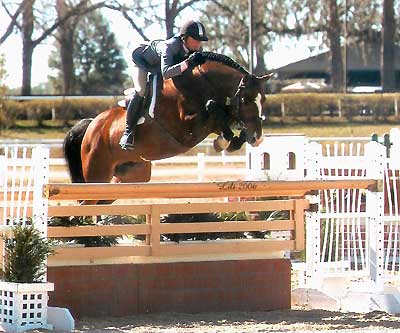 Comments:
Cabardino is the USEF # 1 Hunter sire for 2017 and 2018!
Cabardino is a spectacular 4′ hunter who combines scope, technique, temperament, beauty and movement in one complete package. Cabardino is the sire of countless A circuit Hunter Champions in the US and Canada, including Circuit Champions at both WEF and Ocala. He is the sire of the Sallie B. Wheeler / USEF National Hunter Breeding Champion Sabrina and has produced numerous hunter line class champions. Cabardino was Reserve Champion at the Oldenburg International Stallion Approval for Show Jumpers. Cabardino's temperament is second to none and his scope and technique over jumps is extraordinary. He produces flashy, refined foals, who are intelligent, calm and easy to train.
Cabardino was campaigned from 2006 to 2008, winning Working Hunter Championships at WEF, Kentucky National, Tournament of Champions and Combined Hunter, Adult/
Amateur and Grand Champion Amateur Hunter Championships at the Royal Winter Fair in Toronto.
As a renowned sire, Cabardino has passed on his winning ways, producing numerous Premium and Champion Foals. If you are looking to produce a classic hunter type foal, Cabardino is your stallion of choice. Excellent quality fresh semen is available during breeding season for shipment across NA. Semen for US based mares is sent out of Buffalo, NY, as a domestic shipment. Frozen semen is always available.

---
Carpaccio

Holsteiner

21-00262-91

Caretino
Caletto II
Cor de la Bryere
Deka
Isidor
Metellus
Corbala
Bettina II
Lantaan
Lord
Lyrik
Nolde
Ladykiller
Bettina

Klarina

Holsteiner

21-03357-95

Gaspari I
Grundyman
Grundy
Ber the Manet
Texas
Carneval
Ledusa
Farina VI
Cor de La Bryere SF
Ratzau
Quenotte
Wacht
Silvester
Pracht
---
Breeding Fee: $2,000 cooled – $1500 frozen

Booking Fee: $n/a (Booking Fee Included)

Available by: Transported Cooled Semen, Frozen Semen

LFG: Yes

Limitations: see website for details
NOTE:
The information on each stallion included in this Directory has been supplied by the owner. While every effort has been made to ensure the complete accuracy of all information, the CWHBA and its officers and officials make no claim or guarantee as to the accuracy of same and cannot be held responsible or liable for errors.
Close Window
---