Breeding Warmblood Horses to International Standards
About Us:
The Canadian Warmblood Horse Breeders Association (CWHBA) was Incorporated, under the Canadian Animal Pedigree Act, in 1991. The association is a corporate union of breeders for the purpose of furthering Warmblood horse breeding in Canada. The purpose of the association is:
to unite the breeders, owners and friends of Warmblood horses in Canada;
to maintain of the Stud Book of Canadian Warmblood horses including approved stallions, mares and foals;
to maintain a uniform breeding program of Warmblood horses in Canada;
to promote breed shows and representation in exhibitions;
to provide information to breeders, owners and friends and generally encourage public understanding of the Canadian Warmblood horse.
Breeding Aim:
The breeding aim of the Canadian Warmblood Horse Breeders Association is a medium sized, well bred Warmblood horse that is naturally talented to excel in Olympic and related equestrian sports – Dressage, Jumping, Driving, Eventing, Hunter. A horse which:
through correct conformation will have soundness and longevity in sport
has an even temperament and good character, making it a willing partner for amateur and professional alike
may have exceptional ability in one discipline or exhibit good performance in both jumping and gaits
reproduces predictably and has wide market appeal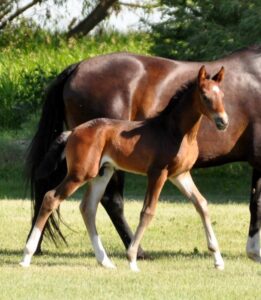 International Recognition:
Members of the World Breeding Federation for Sport Horses have reached an agreement which gives reciprocal recognition of pedigree from country to country and yet retains the autonomous control of  registrations by each countries' breeder society. Canada has been a full member since 1995.
The CWHBA is modelled after the very successful European Societies. It's goal is to provide the same service and advantages to Canadian breeders that our European counterparts enjoy abroad:
Certificates of Pedigree for your valuable Warmblood
Performance testing and grading
International standards of Mare and Stallion grading
Performance records to aid in selection and breeding decisions
Mare and Foal shows
Education
Marketing
Organizational assistance in sales & promotion
Organization:
The association is composed of provincial chapters that elect national directors to run the national body. Each chapter has equal representation on the national board. Local promotions, mare and foal shows and sales are provincial responsibilities. Stallion approval and Stud Book management are national matters. 
Membership:
Owners of breeding stock, mares and stallions are eligible for membership and must be a Regular member in order to register foals, and file stallion reports. Interested Warmblood horse enthusiasts and youth may apply for Associate status. To become a member click here.