CONNAISSEUR – Approved

Registry:
Hanoverian
100 Day Test – Ermelo
CWHBA #:
BC-[CAN]APPR4239-07 S
WFFS:
Tested Carrier N/FFS
Date of Birth:
2007
Colour:
Dark Brown
Height:
16.2 Hands
Manager:
Sara Pocock
Standing:
Character Warmbloods
Contact:
Dr. Tracy Plough (604) 575-0263 meadowlaneequineclinic@gmail.com
Address:
, Langley, BC
Telephone:
Fax:
E-Mail:
characterwarmbloods@gmail.com
Web Site: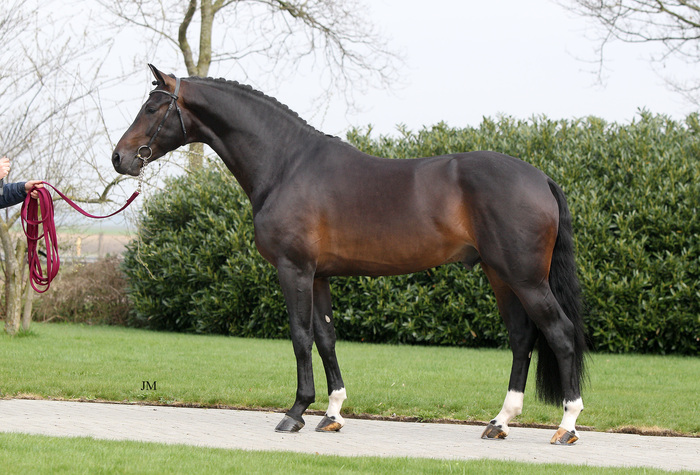 Comments:
Connaisseur (Con Amore x Donnerhall) was imported to Vancouver, Canada in the fall of 2012. Before coming to Canada, he was ridden and competed by current Dutch team member, Emmelie Scholtens. In 2011 and 2012, they competed in the prestigious Pavo Cup finals, placing 3rd and 6th respectively, with scores in the mid 80s each time. He also successfully completed the 50 day KWPN performance test with a total score of 82 points and all scores of 8 and above.

Connaisseur has since gone on to sire many top quality foals, consistently passing on his exceptional canter and top notch rideability, along with his modern type, abundantly elastic gaits, and natural uphill balance. He also stamps his foals with his head and neck connection and beautiful face. As a three year old he was leased to the Swedish National stud, Flyinge, where he became the fourth highest producing stallion in Sweden for 2010. He sired over 70 foals in his first year of breeding and was praised for his super fertility. A filly from his first year of breeding was named the Dressage Champion at the Swedish inspection. Connaisseur also sired the second most expensive foal at a 2012 KWPN elite foal auction.

Since then, his offspring have started competing and winning throughout Europe. To name a few, 'Haute Couture' (Connaisseur x Krack C) scored 90 points at her KWPN mare inspection and received the prestigious, Elite predicate. Since then, she has also gone on to place 10th at the World Championships for Young Dressage Horses with Dinja van Liere and be crowned Champion of 5 yr old division in the 2017 Pavo Cup. In 2019, Dinja and Haute Couture finished in 8th place in the World Championships for 7 year olds amongst and incredibly talented group. Another super son of Connaisseur, Harvest (Connaisseur x Ulft), owned and ridden by Alice Tarjan, completed and won the North American Stallion Test in 2017. Honnaisseur (Connaisseur x Jazz), another exceptional son, was shown very successfully as a young horse by Malin Wahlkamp Nilsson. He has now debuted in the international arena under Betina Jaeger Jensen with scores up to 68% in CDI 3* PSG competition at only 7 years old. There are also several more offspring in Sweden competing at PSG/I1 level with excellent results. On another note, Connaisseur now has offspring competing in eventing throughout North America. So far the oldest are 5 years old and already debuting in the training/preliminary levels with plenty of heart, scope and movement to go to the top!

Since moving to Canada, Connaisseur has continued his sport career with his owner and rider, Sara Pocock. In 2017, Sara and Connaisseur competed at the small tour level nationally scoring up to 74.6% in the Intermediate 1 and received much praise from the FEI judges panel. His scope and ability for the big tour have been consistently recognized, along with his exceptional ability to collect, scoring 9's on pirouettes on multiple occasions. In 2018, Sara and Connaisseur debuted in the International small tour, in Del Mar, California. The pair scored 69.5% in the I1, 69.6% in PSG and 72.7% in I1 Freestyle, placing 3rd, 2nd, and 1st respectively. In 2019, they made the jump to Intermediare 2, with consistent scores around 70%. Connaisseur and Sara plan to debut in the Grand Prix in 2020!

Connaisseur has very high quality frozen semen with excellent conception rates. Veterinarians all around North America have given very high praise for his semen quality and he has started to become a go-to for tricky breeding mares.

FROZEN SEMEN ONLY – $1200.00/dose or $2,600.00 for LFG contract

For semen inquiries, please contact one of the the following:
US Breeders: Yancey Farms – 800-867-7021 www.yancey-farms.com/product/connaisseur/
Canadian Breeders: Meadow Lane Equine Clinic – 604 -575 – 0263 www.meadowlaneequine.com/reproduction

Or for general inquiries: Sara Pocock – characterwarmboods@gmail.com
---
Con Amore

Hanoverian

312103703

Conteur
Contender
Calypso II
Gofine
Ofarim
Rasputin
Holle
Pia
Pik Bube
Pik Konig
Franka
Jessika
Wendekreis
Jodlergabe

Donna Clara

Hanoverian

310637694

Donnerhall
Donnerwetter
Disput
Melli
Ninette
Markus
Negola
Landfeurstin
Legat
Lanthan
Abba
Gwenda
Grossfurst
Kornrade
---
Breeding Fee: $2600 Cdn.

Booking Fee: $300 (Booking Fee Included)

Available by: Frozen Semen

LFG: Yes

Limitations: Individual doses also available for $1200
NOTE:
The information on each stallion included in this Directory has been supplied by the owner. While every effort has been made to ensure the complete accuracy of all information, the CWHBA and its officers and officials make no claim or guarantee as to the accuracy of same and cannot be held responsible or liable for errors.
Close Window
---