EXCALIBUR – Approved

Registry:
Canadian Warmblood
CWHBA SPT – Orangeville, ON
CWHBA #:
AB-[CAN]2121-99 S
WFFS:
Not tested
Date of Birth:
1999
Colour:
Chestnut
Height:
16.0 Hands
Owner:
Touchstone Farm Ltd.
Standing:
Touchstone Farm Ltd.
Contact:
Chris Gould
Address:
Box 688, Mayerthorpe, AB T0E 1N0
Telephone:
780-305-4337; 780-786-4337 Fax: 780-786-4262
E-Mail:
tsf1@telus.net
Web Site:
www.touchstonefarm.com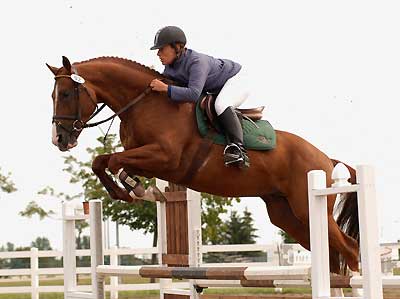 Comments:
Excalibur was sired by the Champion Hanoverian Stallion, Escudo I, one of Germany's top indexing jumper sires. His dam line flows from the legendary Furioso II, sire of For Pleasure. This strong performance pedigree has found expression in an elegant stallion with superlative jumping style and scope. Praised for his rideability by the SPT test riders, he is light in the bridle with a wonderful rolling gallop. His offspring are stamped with his good type and athletic ability. They are proving to be scopey and brave over fences and several of them have shown exceptional movement and suitability for dressage.
---
Escudo I

Hanoverian

OT-[CAN]APPR1088-91 S

Espri
Eiger I
Eisenherz I
St Pr. Alete
St.Pr.St. Diplomatin
Diplomat
Labella
Athene
Arkansas
Aderlass
Nona
Winzerin
Woerman
Wotansesche

Fanfair

Canadian Warmblood

AB-702-93 P1

Furioso
Furioso II
Furioso xx
Dame De Ranville
Tulpe
Mifracolo
Tiemine III
Aphonia
Arkansas
Aderlass
Nona
Wisp xx
Roman Champ xx
Charlotte's Web xx
---
Breeding Fee: $1,250

Booking Fee: $250 (Booking Fee Included)

Available by: On Farm A.I., Transported Cooled Semen,

LFG: Yes

Limitations:
NOTE:
The information on each stallion included in this Directory has been supplied by the owner. While every effort has been made to ensure the complete accuracy of all information, the CWHBA and its officers and officials make no claim or guarantee as to the accuracy of same and cannot be held responsible or liable for errors.
Close Window
---