HVL CON AIR – Licensed

Registry:
Irish Sport Horse
Licensed –
CWHBA #:
AB-[CAN]APPR4627-16 S
WFFS:
Not Tested/Not Declared
Date of Birth:
2016
Colour:
Bay
Height:
16.1 Hands
Manager:
Ashleigh Charity, New View Stables
Standing:
New View Stables
Contact:
Ashleigh Charity
Address:
Box 12 site 13 RR1 , Cochrane , AB T4C 1A1
Telephone:
250 415-5650 Fax:
E-Mail:
newviewstables@hotmail.com
Web Site: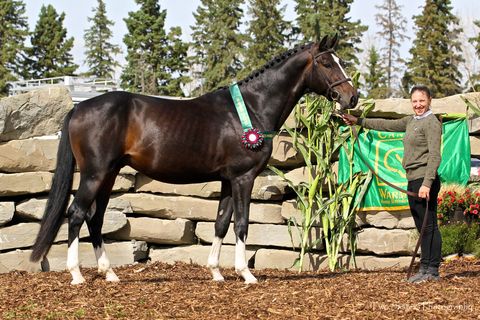 Comments:
HVL Con Air (Registered Irish Sport Horse)

2016 Stallion (Air Jordan Z x Heartbreaker x Indoctro)

Con Air was awarded first premium at the sport horse inspection in fall of 2019 where he received high scores for his elastic movement and scope through the chute. He is licensed with the Canadian Warmblood Association (with the highest score!).

Con Air was imported from HVL Stud in the UK in 2017 as a yearling. He is already showing us that he has a promising future. Con Air is currently going lightly under saddle and is extremely smart and balanced with easy lead changes and eagerness to please. Very level headed, eager to work, brave and uncomplicated. His first offspring are due to foal in 2020. We are extremely excited for this young stallion's future; watch for him in the 4 year old classes in 2020!
---
Air Jordan Z

Oldenburg

DE 333331514696

Argentinus
Argentan
Absatz
Worms
Dorle
Duden II
Winterrose
Mandoline
Matador
Matrose
Cicerone
Winzerin
Weinstern
Czardasfurstin

Velvet Black

KWPN

03103271

Heartbreaker
Nimmerdor
Farn
Ramonaa
Bacarole
Silvano
Orchidee
Ocarole
Indoctro
Capitol I
Vanessa VII
Carole
Ramiro Z
Odette
---
Breeding Fee: $1,000

Booking Fee: $

Available by: Transported Cooled Semen,

LFG: Yes

Limitations:
NOTE:
The information on each stallion included in this Directory has been supplied by the owner. While every effort has been made to ensure the complete accuracy of all information, the CWHBA and its officers and officials make no claim or guarantee as to the accuracy of same and cannot be held responsible or liable for errors.
Close Window
---