LORD ADONIS – Approved

Registry:
Westfalen
100 Day Test – Oklahoma, USA
CWHBA #:
MB-[CAN]APPR4478-08 S
WFFS:
Tested Clear (N/N)
Date of Birth:
2008
Colour:
bay
Height:
16.2 Hands
Owner:
Eurequine LLC
Standing:
EurEquine LLC, Yuba City, California
Contact:
Edgar Schutte
Address:
PO Box 3271, Yuba City, CA 95992
Telephone:
916-203-2247 530-218-3781 Fax:
E-Mail:
edgar@Eurequine.com
Web Site:
www.eurequine.com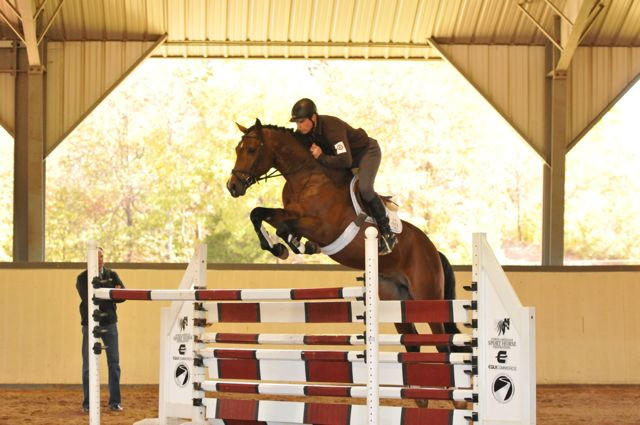 Comments:
Lord Adonis, raised and owned by renowned international Grand Prix jumper Rene Tebbel, he took everyone's breath away when he was presented and approved at the Oldenburg Hengst-Tage in 2010.

Lord Adonis was then imported to the U.S.A. in June 2012, and only a couple months later was taken to the 2012 North American Stallion Performance Testing where he received an impressive 7th in Dressage (110.78), 7th in Jumping (111.83), 8th Overall (111.58), and was one of only four horses inspected for approval by the Hanoverian society earning an Elite status.

As printed in the AHS magazine the judges remarked: "Lord Adonis impressed because of his good type and his long legs. He clearly is still developing. In jumping, his ability was especially impressive; in the dressage test, he received high rideability values. His sire Lordanos is known to produce a ground covering walk and a good canter".

Some of the scores he received during the testing are: Character: 9; Temperament : 8.5; Constitution: 9; Stadium Jumping: 9; Free Jumping: 9; Cross Country: 8.5; Walk: 8.5; Canter: 8.25; Trot: 7.5.

His modern type, confident yet quiet demeanor and versatile talents have fully licensed him with the following breed organizations and studbooks: Westflisches Pferdestammbuch e.V., Westfalen Horse Assoc., American Hanoverian and Rhineland Society, Oldenburg Springpferde International, German Oldenburg Verband, American/Canadian/German Hanoverian Verband, (Accepted in the jumper breeding program), Rheinland Pfalz Saar, Royal Belgian Sport Horse Society (Studbook sBs), KWPN (regA), Canadian Sport Horse and Canadian Warmblood.

Sire: Lordanos – USEF LEADING JUMPING SIRE. Sire of LORDAN, winner of the Zoetis $1 Million Grand Prix at HITS Saugerties. The 9 year old won $350,000 for owner/rider Nayel Nasser and was the Leading USEF $25,000 PLUS GRAND PRIX horse.
In 2017 Jenny Karazissis rode UNDENIABLE by Lordanos to win the HITS/Diamond Mills $500,000 Hunter Prix. Lordanos career began by winning nearly 40 tests for young jumpers in series. He was successful in 1.40m- and 1.50m-classes for an incredible eleven years. The family horse won advanced (S) classes with all three riding Sosaths – Janne, Gerd and Hendrik and was victorious in both the Big Tour and in puissance, as he jumped over a wall of 2 meters with Janne.
In 2007, Lordanos presented a good number of horses that qualified for the Bundeschampionat. After Lumos victory in Warendorf in 2004, Light On was a high placed finalist in the class for five year olds in 2007. The top priced Verden auction horse Lohengrin became the Hanoverian Show Jumper Champion and another son won the licensing in Finland.
Lordanos also sired Lex Lugar, 2010 German National Derby winner, who he shared the VTV Stallion of the Year title with in 2010. In 2013, Lordanos was named the top jumper sire in the United States by the United States Equestrian Federation (USEF).
---
Lordanos

Holsteiner

DE 321210188993

Landos
Lord
Ladykiller xx
Viola
Ultra V
Calypso I
Melissa
W-Ashley
Ahorn Z
Alme Z
Heureka Z
Sofia
Calypso I
Gundel

Verb.Pr.St. Royalty

Oldenburg

DE433330151602

Raphael
Ramiro
Raimond
Valine
Annekatrin
Abhang I
Wotansmeise
Parade
Larome
Landgraf I
Miara
St.Pr.St. Parodie
Cor de la Bryere
Paola
---
Breeding Fee: $1450

Booking Fee: $400US (Booking Fee Included)

Available by: On Farm A.I., Transported Cooled Semen, Frozen Semen

LFG: Yes

Limitations: 3 yr return, 30 day LFG; 50% off our posted breeding fees on breedings to any mares sired by the stallions Baron Van Gogh aka Van Gogh B, Corcovado, Escudo II, Fuerst Gotthard, Grandom, Kalypso, Landfriese II, Landk'nig, Pablito, Pablo, Rubignon and Wild Dance
NOTE:
The information on each stallion included in this Directory has been supplied by the owner. While every effort has been made to ensure the complete accuracy of all information, the CWHBA and its officers and officials make no claim or guarantee as to the accuracy of same and cannot be held responsible or liable for errors.
Close Window
---