RIVERCROSS CRIS DE COEUR – Licensed

Registry:
CWHBA
Licensed –
CWHBA #:
QC-[CAN]9279-14 G
WFFS:
Not Tested/Not Declared
Date of Birth:
2014
Colour:
grey
Height:
16.2 Hands
Owner:
RiverCross Farm
Standing:
Bromont, Quebec
Contact:
Sally Harrington Philippo
Address:
1110 Halle Road, Brigham, QC J2K 4G8
Telephone:
450-263-7111; 450-775-4506 Fax:
E-Mail:
Sally@rivercrossfarm.com
Web Site:
www.rivercrossfarm.com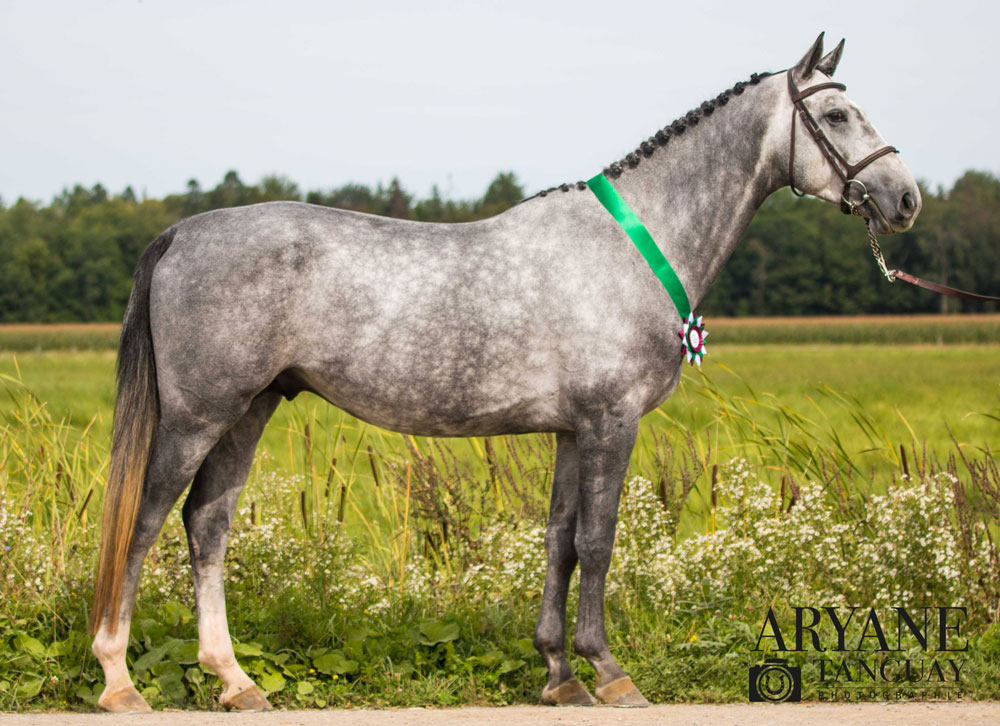 Comments:
Cri de Coeur is a very exciting young stallion with carefully selected bloodlines that combine ath-leticism with a focus on excellent temperament. His sire, Coeur de Lion II was champion of the CWHBA National tour in 2012, with a score of l0 for scope. A beautiful type, Coeur de Lion II is a Canadian bred son of Mr. Blue out of a Concorde mare.

Mr Blue is well known for his exceptional character, making his offspring popular for amateur riders, and also producing many internationally successful jumping horses. Perhaps the most well known in North america is the outstanding Simon, who became famous under Beezie Madden. Concorde, in some circles called Olympic Concorde, was a highly successful son of Voltaire, jumping successfully up to 1m 60, and whose offspring were also in demand in international jumping circles.

The dam of Cri de Coeur was born on our farm, and she is by Numero Uno out of a Keur Elite mare (JetSetD, Goodtimes) who we imported from Holland, and whose dam line is consistently predicated at the highest level. We searched across Holland to find a mare with the characteristics we value, and this mare has produced offspring, using a variety of handpicked stallions, that have exhibited outstanding character: they are highly intelligent, with a desire to please, good scope, and are ideal amateur mounts for the North American jumper ring.

We selected Numero Uno, one of the leading sires in the world of modern sport horse breeding, who jumped success-fully internationally at 1m 50, and whose offspring inherit not only his careful and powerful jump, but also his excellent temperament. He was described as Honest, Reliable and willing in his per-formance test, of which he was champion. The dam of Cri de Coeur is currently in the sport and has demonstrated her rideabiltity and excellent character as a mount for a junior, most re-cently in the jumper ring out in California.

Cri de Coeur is currently in training to begin his showing career this spring. He is demonstrating all the traits we have desired. He is athletic, honest, willing and careful. A sheer delight to han-dle.

2019 will be his first year of breeding.

If you have any questions about our stallion, or would like to see him, you are welcome to contact us for a viewing.

---
Coeur de Lion II

CWHBA

NF-[CAN]APPR4222-08 S

Mr. Blue
Couperus
Naturel
Marina
Acaria
Oldenburg
Picaria
Nicole
Concorde
Voltaire
Flyer
Ewinda
Amethist
Winda

Floralie

KWPN, CWHBA

QC (CAN)APPR4445-10 A

Numero Uno
Libero H
Landgraf I
Oktave
Jolanda
Lord Calando
Feinschnitt
Rosalie
Jet Set D
Zirkoon
Escansan
Lindalie
Goodtimes
Dada lie
---
Breeding Fee: $1200

Booking Fee: $n/a (Booking Fee Included)

Available by: Transported Cooled Semen,

LFG: Yes

Limitations:
NOTE:
The information on each stallion included in this Directory has been supplied by the owner. While every effort has been made to ensure the complete accuracy of all information, the CWHBA and its officers and officials make no claim or guarantee as to the accuracy of same and cannot be held responsible or liable for errors.
Close Window
---