TALME K – Licensed

Registry:
Dutch Warmblood
Licensed –
CWHBA #:
OT-[CAN]APPR3097-00 S
WFFS:
Not Tested/Not Declared
Date of Birth:
2000
Colour:
Bay
Height:
16.2 Hands
Owner:
Pelmac Stables
Standing:
Pelmac Stables
Contact:
Zoe MacDougall
Address:
RR7 Site 707 Box 66, Saskatoon, SK S7K1N2
Telephone:
(306)2706224 (306)2706223 Fax:
E-Mail:
pelmac@sasktel.net
Web Site:
www.pelmacstables.com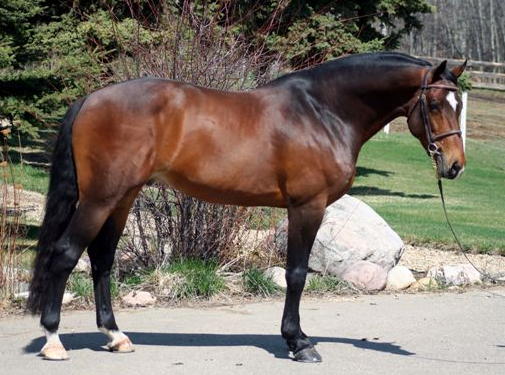 Comments:
Talme is a compact, long legged stallion with a strong loin connection and excellent use of the hind leg. He has an amazingly balanced, ground covering canter, a reaching trot and his jump was effortless. He is now retired from a very successful sport career where he competed in the Adult Amateur hunters, the 1.30m jumpers and as a young horse in the Dressage ring. He proved to be very brave excelling in Derby classes both in the Hunter and Jumper ring.

Talme sires sweet natured, dark coated babies who are naturally balanced, with an uphill frame and good pushing hind leg. They have great work ethic, a nice reaching trot and very balance canter making it easy to maintain a rhythm to the jumps. They are having a lot of success as Hunters, Dressage horses and several are doing well as eventers so far up to the Preliminary level with their amateur owners.

Talme's sire Wellington earned his Keur predikaat by siring many Ster and Keur mares and approved stallions like Emilion, Farrington and Glennridge. Wellington is by Nimmerdor who was named the 'Stallion of the Century' in 1999 by the Dutch Warmblood Association in Holland. Nimmerdor has produced some of the best show jumpers and most influential stallions in the modern warmblood era. The list includes Heartbreaker, Ahorn, Goodtimes, Wellington and many more.

Talmes dam Valme Kerrelec Prest is a ' sister to one of the greatest North American show jumpers of the 80's 'I Love You'. She is by the legendary H. Alme Z who was on the top of the jumping index for many years along with Nimmerdor. Nykio, her broodmare sire is known as a foundation sire of the Selle Francais and is on the mother line of show jumping greats. Rantzau xx is the sire of the Holsteiner phenom Cor de la Bryere and is on the mother line of Rodrigo Pessoa's THREE time World Cup Champion Baloubet Du Rouet.

Photo at bottom of page – Talme x Iris

---
Wellington

Dutch warmblood

OT-[CAN]APPR1862-80 S

Nimmerdor
Farn
Fax I
Dorette
Ramona
Koridon
Friedhilde II
Patty
Lucky Boy xx
Compromise xx
Sejane xx
Eritama
Romeo
Wilma

Valme Kerrelec

Dutch Warmblood

87.343810 A

Alme Z
Ibrahim
The Last Orange
Vaillante
Girondine
Ultimate
Jvins Mars
Magali De Barive
Nykio
Fra Diavolo
Perle Fine III
Tulipe De La Cour
Rantzau
Oceanie
---
Breeding Fee: $1200.00 & GST

Booking Fee: $250.00 (Booking Fee Included)

Available by: On Farm A.I., Transported Cooled Semen,

LFG: Yes

Limitations:
NOTE:
The information on each stallion included in this Directory has been supplied by the owner. While every effort has been made to ensure the complete accuracy of all information, the CWHBA and its officers and officials make no claim or guarantee as to the accuracy of same and cannot be held responsible or liable for errors.
Close Window
---