ALCHIMIST – Approved

Registry:
KWPN
CWHBA SPT –
CWHBA #:
BC-[CAN]APPR4028-05 S
WFFS:
Not Tested/Not Declared
Date of Birth:
2005
Colour:
Chestnut
Height:
16,3 Hands
Manager:
Roelof Brand
Standing:
Chilliwack BC
Contact:
Roelof Brand
Address:
41455 Yarrow Central Rd, Chilliwack, BC V2R 5G5
Telephone:
1-604-316-3557; 1-604-823-4618; Fax: 1-604-823-4358
E-Mail:
roel@brandsequipment.com
Web Site: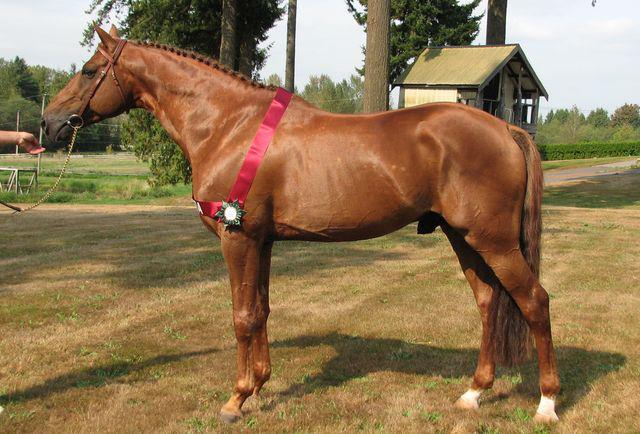 Comments:
Alchimist's Sire (Eurocommerce) Vancouver has been a strong and constant performer under Dutch rider Gerco Schroeder at the mtr 1.50 level, he has placed himself over twenty times internationally and sixty times nationally in the top ranks.

Vancouver's sire is the famous French stallion Le Tot de Semilly a producer of many great international show jumpers.

On Alchimst's dam side we find the AA stallion Gagson Wimborn by Gag xx, a producer of many show jumpers and dressage horses at Grandprix level.

Alchimist himself is a very elegant athletic and modern stallion with 3 excellent gaits. He is confidently showing in 1.20m courses and is seen as a great refiner for the Canadian Warmblood breed.
---
Vancouver

KWPN

96088397P

Le Tot de Semilly SF
Grand Veneur SF
Amour du Bois
Tanagra g SF
Venue du Tot
Juriste SF
Relique
Perpetua de Crocq
Fangio
Arlequin AA
Idee
Vertu
Vertublue
Ketty

Wimborn Lotus

NRPS

AA96056896

Gambit AA
GagsonWimborn AA
Gag xx
Wimborn Lucinda
Wimborn Lucinda
Royal Greylight
Wimborn Wilma
Wimborn Lucinda
Royal Greylight
Silver Drift
Di Vernon xx
Wimborn Wilma
Exilio xx
Wimborn Winifred
---
Breeding Fee: $1000

Booking Fee: $350 (Booking Fee Included)

Available by: Live,On Farm A.I., Transported Cooled Semen,

LFG: Yes

Limitations: collection fees not included
NOTE:
The information on each stallion included in this Directory has been supplied by the owner. While every effort has been made to ensure the complete accuracy of all information, the CWHBA and its officers and officials make no claim or guarantee as to the accuracy of same and cannot be held responsible or liable for errors.
Close Window
---