CASPARO – Approved

Registry:
Hanoverian
CWHBA SPT –
CWHBA #:
AB-[CAN]APPR4473-11 S
WFFS:
Tested Carrier N/FFS
Date of Birth:
2011
Colour:
grey
Height:
16.1 1/2 Hands
Manager:
Equitop Farm
Standing:
New Norway, AB
Contact:
Equitop Farm or the Brinkmanns
Address:
RR1, New Norway,, AB T0B 3L0
Telephone:
780-855-2477 780-608-0160 Fax:
E-Mail:
brinkmann@equitopfarm.com
Web Site:
www.equitopfarm.com/casparo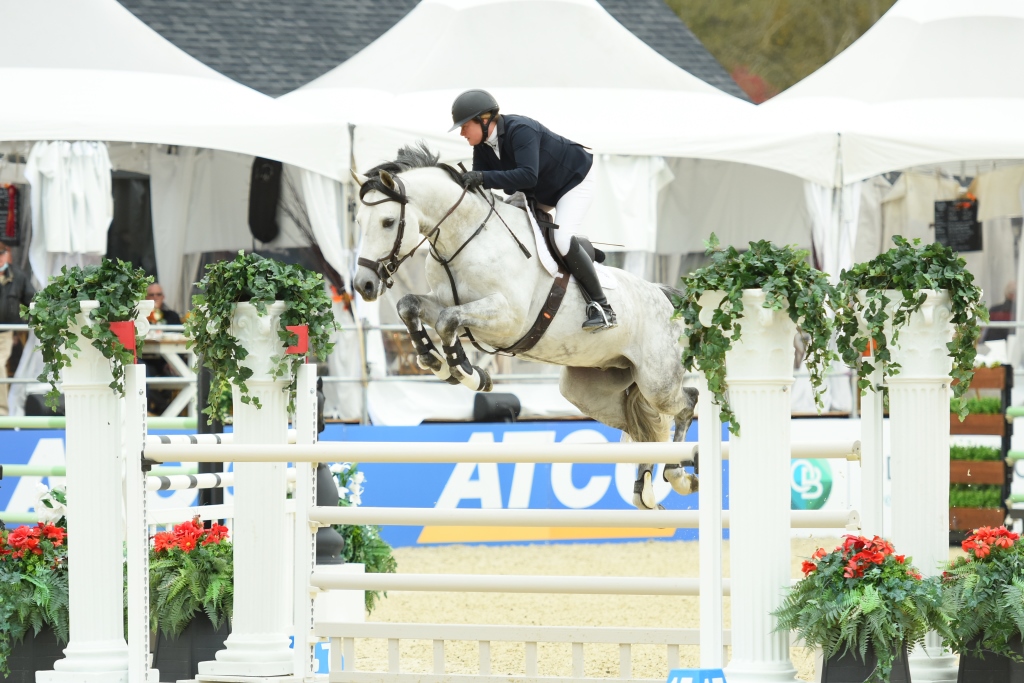 Comments:
A modern sport horse, Casparo's bloodlines combine contemporary sport-breeding with foundational bloodlines. Casparo is a level-headed and clever character in an elite compact athletic frame. He has entered the FEI jumper levels in the short 2020 show season. With a relaxed show-star attitude, he is equally charming to hack on a trail ride.

Casparo was imported after the Hanoverian stallion licensing in Germany, and is sired by Ludger Beerbaum's famous Coupe de Coeur. Coupe de Couer is amongst the most successful show jumpers in Europe with 125 wins and placings in Grand Prixs, Nation's Cups and World Cup competitions, which includes the three-time title of German Show Jumping Champion. Coupe de Coeur is now retired from the sport and standing at Ludger Beerbaum stables in Germany.

Casparo's dam line, by Wogenbrecher, leads back to both legendary Hanoverian bloodlines of Werther and Gardestern. Werther is remembered with the title Hanoverian Stallion of the Year, due to the successes of his offspring, which include Casparo's dam sire.

Casparo, himself, was Licensed by the Hanoverian Verband in Verden, Germany as a two-year old stallion. After a year of growing and beginning his under-saddle training in Germany, he was imported to Canada in the fall of 2015. He begain his show career under amateur rider Beke Brinkmann, playing his way into the Western Canadian 5-Year old finals in 2016, repeating & showing his consistency and reliability again in 2017 for the 6-Year old finals, and in 2018 they for 7-Year old horses. In 2019 Casparo made his debut in the US/California show circuit and gathered skills at the 1.30m level. Back home in Alberta, he won classes in the jumper ring, as well as won his first hunter derby, the inaugural Booster Juice What the Hay derby. In 2020, despite the short show season, Casparo began with a win in the 1.30 Prix at RMSJ Masquerade and moved up to 1.40m levels with professional rider Shauna Cook. He had consistent & eye-catching rounds in the RMSJ Fall Classics & Thunderbird FEI CSI 2* Events.

Casparo's first foal crop was born in 2016, and his foals were marked with his fine facial features. Now undersaddle, they are revered for their easy-going and intuitive temperaments to start under-saddle. His first foals will appear on the show circuit this season.
---
Coupe de Coeur

Holsteiner

321210246497

Calido
Cantus
Caletto I
Monoline
Baroness
Coriander
Kollet
Adele
Lincoln
Landgraf I
Zita W
Kolin
Urioso
Wyk

Wujiwoo

Hanoverian

431316755306

Wogenbrecher
Werther
Wendekreis
Meisterkrone
Gesine
Gardestern I
Winfriede
Gadina
Gardeulan II
Gotthard
Waldrun
Piroschka
Perser xx
Firnbrot
---
Breeding Fee: $1500

Booking Fee: $Included (Booking Fee Included)

Available by: On Farm A.I., Transported Cooled Semen, Frozen Semen

LFG: Yes

Limitations:
NOTE:
The information on each stallion included in this Directory has been supplied by the owner. While every effort has been made to ensure the complete accuracy of all information, the CWHBA and its officers and officials make no claim or guarantee as to the accuracy of same and cannot be held responsible or liable for errors.
Close Window
---