CREE – Approved

Registry:
Swedish Warmblood
CWHBA SPT – Olds, AB
CWHBA #:
AB-[CAN]APPR2580-02 S
WFFS:
Not Tested/Not Declared
Date of Birth:
2002
Colour:
Dark Bay
Height:
178 CM
Owner:
Laurie James
Standing:
Mandala du Lac; contact Laurie James
Contact:
Laurie James
Address:
22330 Twp Rd 522, Sherwood Park, AB T8C 1G3
Telephone:
780-922-3000; 780-220-6922; Fax: 780-922-3567
E-Mail:
laurie@mandaladulac.com
Web Site:
www.mandaladulac.com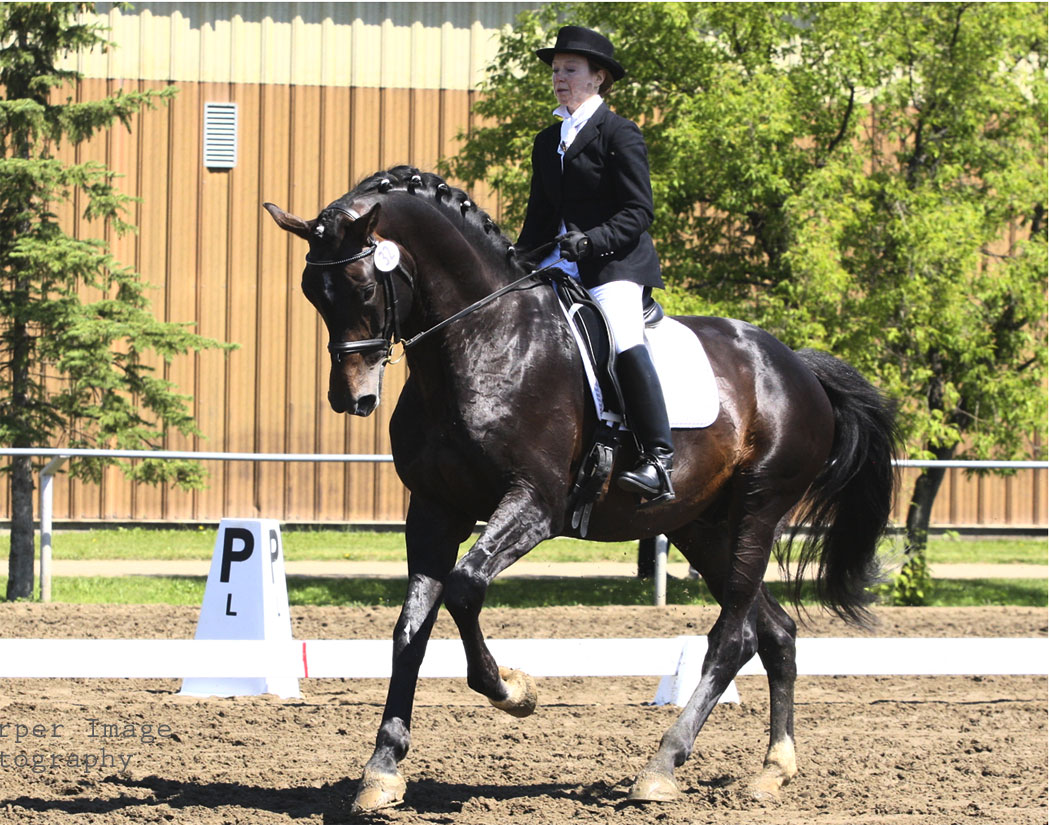 Comments:
Cree was the Champion of the Canadian Warmblood Stallion Performance test in 2005; first in the dressage index, second in the jumping index. He had scores of 10 for character, constitution, and rideability, and 9 for temperament, willingness, and jumping scope.

Cree stands 17 hands two inches; dark bay in colour. His lines are long and elegant, his head is beautiful and his expression is kind. He will add height, charisma, elegance, and a wonderful work ethic into the mix.

Cree has a Scandinavian heritage, a Swedish mother and a Danish father, two sides of an impeccable pedigree. His sire, Come Back II is a son of Cor de la Bryere. Come Back II has been an international competitor in Grand Prix Dressage; is in the top 10 hunter sires in the US; and is known for producing competitive jumpers. He was horse of the year in Denmark in 2002 and was the winner of his 100 day test in Germany in 1995.

Cree's mother Symfonie is a Premium A mare with the Swedish Warmblood Association. She has produced 10 'class I' foals including an approved Swedish Warmblood stallion, an approved Canadian Warmblood stallion, and several dressage champions. Symfonie was reserve champion 3 year old in Sweden in 1995. She was given 10 for type, 9 for head, neck and body, 8 for legs, and 8's for gaits, winning her the coveted Swedish Diploma for mares. Her sire, Strauss was a 3 time Olympic competitor with the Swedish dressage team.

Cor de la Bryere and Landgraf I are legendary in European breeding. Other famous horses in Cree's family include Ochidee, gold medal in the Seoul Olympics; Montevideo, gold medal in the LA Olympics, and Corlandus, silver medal in Seoul.

In 2009 Cree has also been approved with the Canadian Sport Horse registry.
---
Come Back II

Danish Warmblood

560

Cor de la Bryere SF
Rantzau xx
Foxlight xx
Rancune xx
Quenotte
Lurioso
Vestale
Amoene DH
Landgraf I
Ladykiller xx
Warthburg
Pandura
Montevideo
Elana

Symfonie

Swedish Warmblood

04-92-1946

Strauss 689
Hertigen 505
Nepal 390
Larrami 6325
Utrinda 12538
Utrillo 432
Unigunda 10161
Misa 04-86-1604
Pascal 656
Falstaff 474
Ursuliz 11046
Miranda 16595
Marina 554
Sandra 11192
---
Breeding Fee: $900

Booking Fee: $300 (Booking Fee Included)

Available by: On Farm A.I., Transported Cooled Semen,

LFG: Yes

Limitations: e-mail for contract
NOTE:
The information on each stallion included in this Directory has been supplied by the owner. While every effort has been made to ensure the complete accuracy of all information, the CWHBA and its officers and officials make no claim or guarantee as to the accuracy of same and cannot be held responsible or liable for errors.
Close Window
---