By Coreen Jamieson
Photography: courtesy CWHBA, Peter Llewellyn
CWHBA Alberta has chosen to award 'Elite Ambassador' status to outstanding CWB registered horses and their breeders, owners, developers, and riders that are competing at an Elite level in their chosen discipline. Not only have they risen to the top, they are out there amongst other elite athletes competing on par.
The Elite Ambassador designation extends to those farms, trainers and breeders that develop young Canadian Warmblood registered horses to the upper echelon of sport. Currently three breeding and show operations have met the criteria.
Wachter Horses, operated by Beda Wachter and Lynne Stephenson, is an avid supporter of CWHBA and breeds, registers, develops, trains, and shows many CWB horses with great success.
WH Coconut, 2008 grey mare (Carthago Sun III – Ciris x Charmeur) was bred by Wachter Horses and has been successfully showing and winning up to 1m45 with Lynne Stephenson. Coming from two top Warmblood lines, WH Coconut shows the quality of Warmbloods present in Canada. Her sire is Wachter Horses' registered CWB stallion, Carthago Sun III who has a decorated show record himself and has produced a number of champions.
On the mare side, WH Coconut's dam has produced not one but two other Canadian Warmbloods competing with as much success as WH Coconut: WH London (WH Leader) and WH Campari (Carthago Sun III).
Klondike Victory Farm has been a mainstay of the Alberta chapter of the CWHBA for many years. Led by Lorrie Jamieson, with family and friends, their volunteer involvement with the Fall Classic Breeder's Sale has been nothing short of phenomenal. This as a backdrop to a very successful breeding, training and show program.
KVF Elle Carrera, 2009 bay mare (Tempranillo – Wendy x Indorado) was bred by Klondike Victory Farm and competes at FEI 1m45 level with a lot of success. A second mare meeting the high level of performance criteria is the 2012 chestnut mare, KVF Hooz Da Kat (KVF Zeno – Beya Cat x Tempranillo), currently competing at 1m40 level with an eye to future FEI classes.
Alborak Stable and Sandra Donnelly put the CWHBA on the map by representing Canada at the 2008 Olympic Games in three-day eventing, and she and her home-bred Canadian Warmblood horses continue to be a strong presence in this discipline.[s2If !is_user_logged_in()].. To read the complete article you need to be a subscriber
CLICK HERE TO SUBSCRIBE TO BREEDING NEWS
SUBSCRIBERS CAN READ THE COMPLETE ARTICLE BY LOGGING IN AND RETURNING TO THIS PAGE[/s2If]
[s2If current_user_can(access_s2member_level2)]
Buenos Aires, 1997 bay gelding (Bajazzo x Arkansas) Sandra's mount at the 2008 Beijing Olympic Games, was the first Alberta-bred horse and the first Canadian Warmblood ever to represent Canada at an Olympic Games. To add to this, in the history of the Olympics, only one other horse has been bred, raised, trained, and ridden by the same person. He is out of a mare purchased at the CWHBA Fall Classic Breeder's Sale.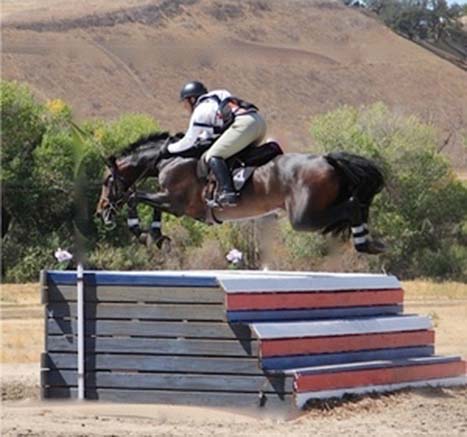 Sandra now competes at the advanced level on Belshazzar (Beach Boy – Aphrodite x Arkansas), a 2003 bay Canadian Warmblood stallion bred by Touchstone Farm, who like Buenos Aires is from the successful mare-line cross of Arkansas x Abrupt.
The Elite Ambassador program is a unique way to recognize the achievements of individuals and breeding operations that highlights the success of the Canadian Warmblood breeding program.
[/s2If]