DAUPHIN – Approved

Registry:
Hanoverian Verband
100 Day Test – Adelheidsdorf – 300 day test
CWHBA #:
US-[CAN]APPR4345-99 S
WFFS:
Tested Clear (N/N)
Date of Birth:
1999
Colour:
Black
Height:
16.0 1/2 Hands
Owner:
Marefield Meadows
Standing:
Aileron Stables, PEI
Contact:
Ruth Hanselpacker
Address:
2019 Selkirk Road, Belfast, PE C0A 1A0
Telephone:
902-940-7516 902-659-2614 Fax: 902-659-2614
E-Mail:
hanselpacker@hotmail.com
Web Site:
www.AileronStables.com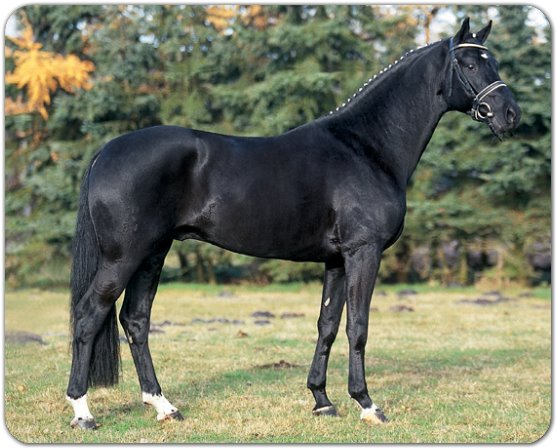 Comments:
Dauphin is a typey son of the legendary Donnerhall from an outstanding damline developed at Groenwohldhof where his sire stood for breeding.

Marefield Meadows, his breeder, was fortunate when Dauphin was invited to join 49 other colts in the 11-Month Stallion Performance Test at Adelheidsdorf. He was the only privately-owned stallion of the group.

The German breeders who followed his progression were favorably impressed with Dauphin's swinging back and happy attitude, saying, 'For him it's like play; the riding is a game to him.' He was also praised for his kind nature and good manners. Dauphin finished the test in fourth place and was invited to remain at Celle on breeding lease.

Dauphin has been an outstanding producer of character, rideability, willingness, correctness and movement. He passes his exemplary conformation, type, and wonderful disposition onto his offspring. He tends to be a refiner and produces rideable dressage horses in the 16-16.2hh range.

He has produced 489 German Hanoverian offspring as of the 2015 publishing of the Hanoveranner Hengst Book. Of the 102 mares that are in breeding, 28 of them were awarded the coveted States Premium Title. His two approved Hanoverian sons, Dallmeyer and Don Presidente are continuing to carry on this line.

Dauphin is on the Top List of the Hanoverian breed for type with an outstanding score of 132, and a 143 for limbs! He is black but can produce chestnuts. Dauphin is also registered with CHS, GOV, CWHBA, and CSHA. Foals from KWPN-NA mares will be eligible for registry 'A' papers.
---
Donnerhall

Oldenburg

330887081

Donnerwetter
Disput
Diskant
SPS Amselmaerchen
Melli
Matador
Lilli
Ninette
Ninette
Manolete xx
SPS Harine
Negola
Carnot
Negra III

St.Pr.St. Fabia

Hanoverian

310338390

Feiner Stern
Freiherr
Furioso II
Almentanne
Goldblatt
Goldstern
Ramona
St.Pr.St. Papermoon
Pik Ramiro
Pik Bube
Hakim
Alaska
Akzent II
Patella
---
Breeding Fee: $1,700

Booking Fee: $ (Booking Fee Included)

Available by: On Farm A.I., Transported Cooled Semen, Frozen Semen

LFG: Yes

Limitations:
NOTE:
The information on each stallion included in this Directory has been supplied by the owner. While every effort has been made to ensure the complete accuracy of all information, the CWHBA and its officers and officials make no claim or guarantee as to the accuracy of same and cannot be held responsible or liable for errors.
Close Window
---