GARE DU LYON (GOLIATH H VDL Z) – Approved

Registry:
Zangersheide
Licensed –
CWHBA #:
AB-[CAN]APPR4551-15 S
WFFS:
Tested Clear (N/N)
Date of Birth:
2015
Colour:
Grey
Height:
16.3 Hands
Owner:
Ulterra Equestrian Ltd & Highbury Show Stable
Standing:
Ulterra Equestrian Ltd.
Contact:
Cathy Chalack
Address:
RR2, Carstairs, AB T0M 0N0
Telephone:
403-337-5881 403-669-9108 Fax:
E-Mail:
ulterraranches@gmail.com
Web Site:
www.ulterraranches.com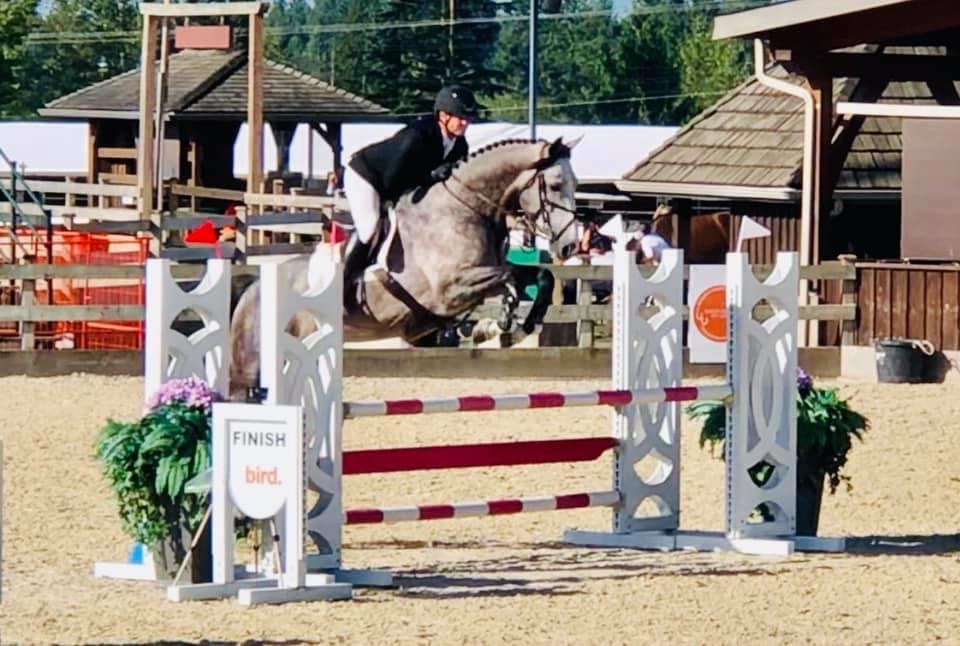 Comments:
CHAMPION of the CWHBA National Stallion Performance Test 2019
GARE DU LYON scored Character – 9, Temperament – 10, Willingness – 9, Constitution – 9, Individual Trot – 8, Individual Canter – 9.5, Ridability – 9, Scope – 9, Technique – 8.5 Test riders 8,8,9,8.

He appears to cross well with any style of mare. His first three crops are 50% grey, then bays and chestnut. They are stylish and moderate size with consistently powerful loins, good legs, feet and excellent character.

Geo, as we affectionately call him, started his show career spring of 2020 with Gareth Graves. He is currently working his way up to 1.20+ in 2021 demonstrating scope, attitude and aptitude for the upper levels. He is placing well in his classes. He has the VERY BEST temperament.

DYNAMIC and historically relevant SELLE FRANCAIS and KWPN pedigree 1.40-1.6m jumpers.

Sire: GARE DU NORD VDL – Champion of Anglo European Stallion test, Schijndel
by STREET HASSLE (reliable Young Rider mount for Mimi and Becky Gochman in the USA to 1.50m)
– Kamtchatka is the dam of ORIENT EXPRESS HDC(1.60m)
– GLOBAL EXPRESS VDL by Orient Express and out of DAME RICARD

Damline: Very strong, prolific and proven. VDL CARDENTO(Elite) x CONCORDE(pref) x NIMMERDOR (stallion of the Century)

Dam: GESINA SR is currently competing at the 1.45m H. Ghrayb(SYR)

Notable Relations
via CARDENTO >> FARREL VDL ridden by D Coyle 1.55m ELUCAR V.E. 1.60m CORPORAL VDL, GLORY DAYS, CARISMA, CHECK PICOBELLA Z, NICE STEPHANIE, CYKLON 1083, CARRERA VDL, H&M FLIP'S LITTLE SPARROW, CELESTINE, THRILLER P, GDE MATRIX, CAFINO, QUATRO MAIL, GESINA SR; Bianca(S Guerdat)

QUICK STAR – sire of – BIG STAR, ISHD DUAL STAR, STAR POWER, QUANTO FINO, VLEUT, ORIENT EXPRESS HDC, STREET HASSLE

DAME RICARD – dam of – ORNELLA, QAT, IQBAL DES HAYETTES, UPSTART, GLOBAL EXPRESS VDL, STREET HASSLE

KAMTCHATKA a sibling to "Diamant de Semilly" and dam of – TAXI DRIVER, UNCOMMON, SAPTO3, ORIENT EXPRESS HDC, GARE DU NORD

LORPIERRE – dam of – DOLLAR DE LA PIERRE, KAMTCHATKA

BERNADETTE – LAROCHE VDL (Full sister to Vedette R) and CARTELLO VDL – Half sibling to VDL CARDENTO, both out of B-ESTELLE

WFFS N/N
EVA Negative
Meets X-ray and endoscopic criteria for KWPN
6th place in the free jump KWPN – NA 2019.
---
Gare du Nord

Selle Francais

FRA111539998Y

Street Hassle
Quick Star
Galooubet A
Stella
Dame Ricard
Laudanum xx
Fidelite A
Kamtchatka
Le Tot de Semilly
Grand Veneur
Venue du Tot
Loripierre
Foudre de Guerre
Floralie

Gesina SR

KWPN

528003201102784 keur

VDL Cardento
Capitol I
Capitano
Folia
B-Estelle
Lord
Restelle
Vedette R
Concorde
Voltaire
Flyer
Bernadette
Nimmerdor
Derina
---
Breeding Fee: $1575

Booking Fee: $included (Booking Fee Included)

Available by: Frozen Semen

LFG: Yes

Limitations: One year
NOTE:
The information on each stallion included in this Directory has been supplied by the owner. While every effort has been made to ensure the complete accuracy of all information, the CWHBA and its officers and officials make no claim or guarantee as to the accuracy of same and cannot be held responsible or liable for errors.
Close Window
---