KHEOPS MSK – Licensed

Registry:
KWPN-NA
Licensed –
CWHBA #:
QC-[CAN]APPR4564-15 S
WFFS:
Not Tested/Not Declared
Date of Birth:
2015
Colour:
Chestnut
Height:
16.1 Hands
Manager:
Les Ecuries Belle Passion
Standing:
QC
Contact:
St'phanie Coud'
Address:
5970 Route St Leonard, Shipshaw, QC G7P 1H4
Telephone:
418-376-9056 Fax:
E-Mail:
stephcoude@hotmail.com
Web Site: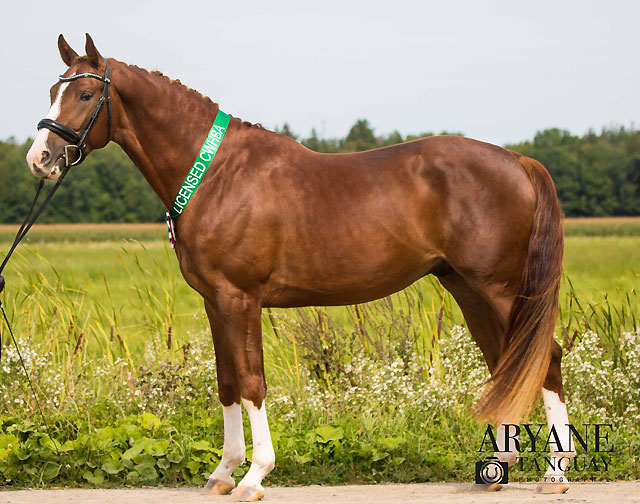 Comments:
Kheops MSK is an exciting young KWPN stallion who was licensed with CWHBA in 2018. He was carefully developed from birth as a higher level hunter and breeding stallion prospect. His semen is of excellent quality and he produced his first offspring in 2018, which inherited not only his striking look, but also his easy temperament. A larger foal crop is expected in 2019 and he will be standing at stud to a limited number of outside mares as well, while he starts his performance career. Kheops MSK shows a very correct conformation, three clean and elastic gaits, good jumping ability and is extremely willing to learn.

Sire Oxford (Burggraaf/Voltaire) was very successful in both hunter and jumper ring, winning many championships throughout his career. He received scores of 10 for character, 9 for temperament 9 for jumping at his Stallion Performance Test, and consistently passed these traits to his offsprings. This stallion is a proven sire of horses that combine athletic abilities with excellent temperament and rideability.

Dam Taranaki PR is a daughter of Immer H/Kanador (Nimmerdor/Lucky Boy) and out of an imported ster KWPN mare, Jildau (Slaney xx/Wisconsin). This mare produced the premium mare Bayah PR by Damiro (score of 7.83), premium mare Jodie MSK by Justice (score of 7.99), licensed stallion Kheops MSK by Oxford, and many other very nice young hunter and jumper prospects. She produced sound and sane offsprings who also inherited her powerful gaits and easy demeanor.

Kheops MSK is a perfect choice for the breeder looking to produce attractive, well conformed offsprings with an amateur friendly temperament. We are looking forward to see what he will produce in the near future.

*******************************

Kheops MSK est un jeune 'talon KWPN ayant obtenu sa license au CWHBA en 2018. Il a 't' m'ticuleusement d'velopp' depuis la naissance comme un prospect pour les hunters de haut niveau et comme reproducteur. Sa semence est d'excellente qualit' et il a produit un premier poulain en 2018 qui a h'rit' non seulement de son look attrayant, mais 'galement de son temp'rament facile. Plusieurs poulains sont attendus en 2019 et il sera 'galement offert ' la saillie pour un nombre limit' de juments, pendant qu'il d'bute sa carri're sportive. Kheops MSK poss'de une excellente conformation, trois allures souples et une tr's bonne technique ' l'obstacle.

Le p're Oxford (Burggraaf/Voltaire) a accumul' beaucoup de succ's en chasseur et sauteur, remportant plusieurs championnats. Il a re'u d'excellentes notes de 10 pour le caract're, 9 pour le temp'rament et 9 pour le saut lors de son Test de Performance d"talon, passant ces traits ' ses tr's nombreux rejetons. Cet 'talon a prouv' sa valeur comme producteur de chevaux combinant d'excellentes qualit's athl'tiques avec un temp'rament exceptionnel.

La m're Taranaki PR est une fille d'Imper H/Kanador (Nimmerdor/Lucky Boy) et d'une jument ster KWPN import'e de Holland, Jildau (Slaney xx/Wisconsin). Elle a produit les juments premium Bayah PR par Damiro (score de 7.83) et Jodie MSK par Justice (score de 7.99), en plus de l"talon licens' Kheops MSK par Oxford et de nombreux autres prospects pour les disciplines de saut. Elle produit constamment des poulains sains au temp'rament agr'able et aux allures puissantes.

Kheops MSK est un excellent choix pour les 'leveurs souhaitant produire des poulains attrayants et bien conform's, ayant un temp'rament parfait pour le cavalier amateur.

---
Oxford

KWPN

MB-[CAN]APPR912-96 S

Burggraaf PREF
Landgraf I
Ladykiller xx
Warthburg
Loanda
Cor de la Bryere
Urbine
Kalista ELITE, PREF, PREST, PROK
Voltaire PREF
Furioso II
Gogo Moeve
Regina
Uppercut xx
Morgenster

Taranaki PR

KWPN

BC-[CAN]APPR2640-00 MM

Kanador / Immer H
Nimmerdor PREF
Farn PREF
Ramonaa
Anita KEUR
Lucky Boy xx
Olene PREF
Jildau STER
Slaney xx
Irish River xx
Flare Pass xx
Florence STER
Wisconsin
Urina PREST
---
Breeding Fee: $1000

Booking Fee: $ (Booking Fee Included)

Available by: Transported Cooled Semen,

LFG: Yes

Limitations: 3 years LFG
NOTE:
The information on each stallion included in this Directory has been supplied by the owner. While every effort has been made to ensure the complete accuracy of all information, the CWHBA and its officers and officials make no claim or guarantee as to the accuracy of same and cannot be held responsible or liable for errors.
Close Window
---