LAMPION – Approved

Registry:
German Oldenburg Verband
Licensed –
CWHBA #:
AB-CANAPPR4706-03 S
WFFS:
Not tested
Date of Birth:
2003
Colour:
Dark Brown
Height:
16.2 Hands
Owner:
Eileen Poole
Standing:
Meadowview
Contact:
Eileen Poole
Address:
23052 township road 521, Sherwood Park, Alberta T8B 1G6, Canada
Telephone:
(780) 886-9197 Fax:
E-Mail:
tsf1@telus.net
Web Site: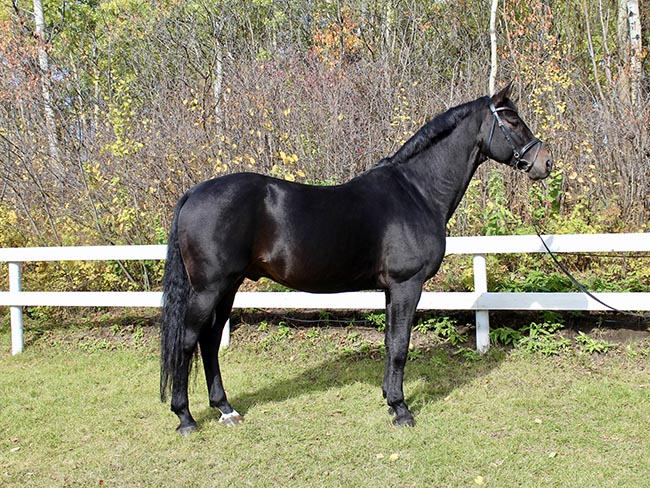 Comments:
Lampion was imported from Germany as a yearling, after being purchased in the Oldenburg Verband Select Sale. He has stood at Meadowview since his importation. His breeding should be very interesting to North American breeders with Landor S/Landadel/Landgraf on the topside of his pedigree and Pilot/Ramiro on the bottom side. One would say he was bred for jumping, but this pedigree also produces offspring with excellent movement for dressage. Lampion has a stellar temperament which he passes on to his offspring. His confirmation is without fault, which he also passes on to his offspring. Lampion was shown successfully in jumping and dressage for several years in his youth. Since being retired to stud, he has produced exceptional offspring in many different disciplines. This includes Lambada MV (PSG Dressage horse and also one of the stars of Equus, the movie), Lachlin MV (1.30 m jumper in the USA), LaRosa MV (CWHBA Fall sale 2021). His offspring won the Get of Sire and Progeny of Dam Class at the CWHBA Show in Olds 2021. His offspring are athletic, trainable, and very human oriented. He has been crossed with many different types of mares, with consistently good results. Semen can be shipped from Meadowview to anywhere in North America. 24 hours notice of a collection is much appreciated, but emergencies can be accommodated. Offspring by Lampion are available from Meadowview, foals to performance horses.

---
Landor S

Oldbg

276333330037591

Landadel
Landgraf I
Ladykiller
Warthburg
Novella
Farnesse
Furth
Fureida II
Godehard
Gotthard
Alsterkunde
Fureida
Furioso II
Heida II

Persey

?

276381811675188B

Pilot
Pilatus
Perseus
Duela
Gratia
Graphit
Kornelia
Rockett
Ramiro
Raimond
Valine
Arina
Almé Z
Druja
---
Breeding Fee: $1,200

Booking Fee: $400

Available by: Fresh Semen.

LFG: Yes

Limitations:
NOTE:
The information on each stallion included in this Directory has been supplied by the owner. While every effort has been made to ensure the complete accuracy of all information, the CWHBA and its officers and officials make no claim or guarantee as to the accuracy of same and cannot be held responsible or liable for errors.