RAPTURE R – Approved

Registry:
Hanoverian
100 Day Test – Paxton Farms, Ohio, USA
CWHBA #:
US-(CAN)APPR3405-01 S
WFFS:
Tested Clear (N/N)
Date of Birth:
2001
Colour:
Chestnut
Height:
16.1 3/4 Hands
Owner:
Ruth Hanselpacker
Standing:
Aileron Stables
Contact:
Address:
2019 Selkirk Road, R.R.#3, Belfast, PEI C0A 1A0
Telephone:
902-940-7516; Fax:
E-Mail:
hanselpacker@hotmail.com
Web Site:
www.aileronstables.com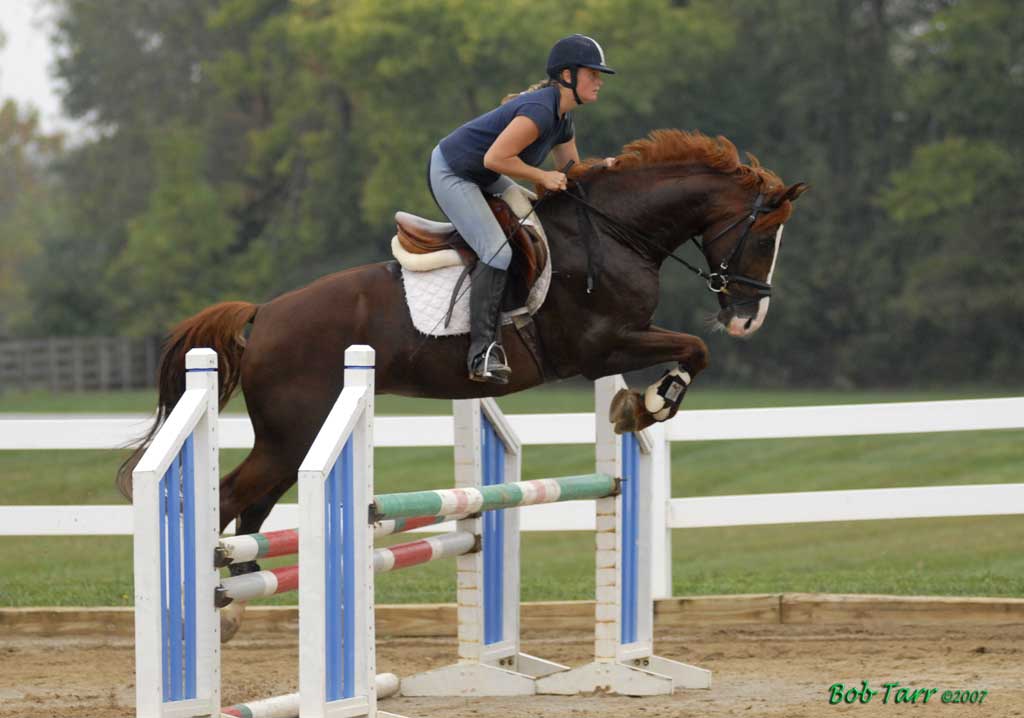 Comments:
Rapture R's pedigree reads like a "who's who" of the most influential sport horses in history. Rubinstein, Donnerhall, Weltmeyer, known as the Royal Dressage Line, have been on top of the World Dressage Breeding Rankings for years. Rapture R's dam line is equally impressive with 5 of the first 7 mares being Elite or SPS mares!

Rapture R's 100 Day Testing scores support the fact that he is a remarkable jumper, with a Jumping score of 135.33, along with his Dressage score of 143.20 qualifies Rapture R as one of the few Elite Hanoverian Stallions in the country.

Rapture R's superior breeding and quality has translated into the show ring. Here are a few of his accomplishments:
2002 Dressage at Devon Yearling and 2y/o and under Colt Champion(84.4%),
2002 USDF Yearling Colt of the Year 3rd Place,
2002 AHS Year End Award Yearling Colt Reserve Champion,
2003 USDF Yearling Colt Champion(81.05%),
2004 Dressage at Devon 2y/o Colt Reserve Champion,
2005 ISR/Oldenburg NA Stallion Licensing Test Champion,
2005 AHS Stallion Licensing Test Champion,
2005 USDF Training Horse of the Year 7th Place(74.091%),
USDF Year-End Awards Materiale Class 4-5 y/o Stallion Under Saddle Reserve Champion(81.90%),
2006 Dressage at Devon 4-5y/o Stallions Under Saddle Reserve Champion,
2007 100 Day Stallion Test 3rd Place,
2009 Region 4 Second Level Champion,
2009 USDF Dressage Horse of the Year Second Level 8th Place,
2009 USDF All-Breeds Award Second Level 4th Place,
2009 USDF All-Breeds Award Third Level 9th Place,
2010 USDF Dressage Horse of the Year Third Level 5th Place,
USDF All-Breed Award Third Level 3rd Place.
USDF Region 4 Reserve Champion 3rd Level.

Rapture was the PSG Champion and I 1 Reserve Champion at the 2013 Region 4 Championships. He has show Grand Prix for the 2014 and 2015 Season with scores to 65.9%.

Rapture R sired the Number one scoring ISR Oldenburg NA foal in North America in 2010 with a score of 8.7 in movement and 8.7 in conformation! He has sired many TOP Inspection Foals and Elite mares so far in his young career. Rapture also has sired several horses that have finished in the Top 25 USEF 4yo Young Horse Final Rankings the last 2 years.
---
Rotspon

Hanoverian

(DED)310112695

Rubinstein I
Rosenkavalier
Romadour II
St.Pr.St. Diva
Antine
Angelo xx
Dodona
St.Pr.St. Antalia
Argentan
Absatz
St.Pr.St. Worms
St.Pr.St. Paragona
Pik Bube
Jessika

EM Damaris

Hanoverian

(DED)310823297

Donnerhall
ES Donnerwetter
Disput
Melli
Ninette
Markus
Negola
St.Pr.St. Wascona
Weltmeyer
World Cup I
St.Pr.St. Anka
St.Pr.St. Ascona
Argentan
St.Pr.St. Seeheldin
---
Breeding Fee: $1,000 US

Booking Fee: $250 (Booking Fee Included)

Available by: Transported Cooled Semen, Frozen Semen

LFG: Yes

Limitations:
NOTE:
The information on each stallion included in this Directory has been supplied by the owner. While every effort has been made to ensure the complete accuracy of all information, the CWHBA and its officers and officials make no claim or guarantee as to the accuracy of same and cannot be held responsible or liable for errors.
Close Window
---