Remembering Eve Mainwaring
1925 -2023
The passing of Eve Mainwaring on June 9th, at age 98, marks the closing of a chapter in the history of the CWHBA. Recognition of Eve as a major influence in equestrian sport in Canada is universal. Much has been written about her life, coming from Estonia, her war experience and her rise to prominence in sport and coaching – especially her involvement with Big Ben and life long friendship with Ian Millar. However, Eve's impact on the Warmblood breeding industry is no less important. Her immense knowledge and experience was generously shared for over thirty years.
In 1988 Eve was recruited by Jennette Coote, at the time a fellow Trakehner breeder, to attend the inaugural meeting of the Canadian Warmblood Horse Breeders Association. Eve accepted the position of Vice Chair and soon after was the founding President of the Ontario Chapter. Travelling year after year across the country, with international judges, she served as the backbone of the inspection team. Eve gained the respect and lasting friendship of Manfred Lopp, Ingvar Fredriksson, Fritz von Blottnitz, Hakan Whalman and several others, who brought international standards of excellence to the process. Her translation skills and role as a mentor to junior judges ensured everyone worked as a team.  It is impossible to measure just how important she was in bringing consistency and impartiality to the Stallion Performance Test, as the permanent member of the judging commission from its inception in 2000 to 2010.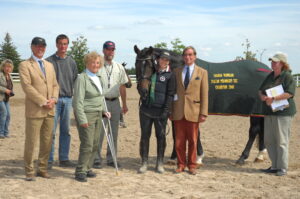 Pictured from the left Hakan Wahlman, Hendrik Gaeble, Eve Mainwaring, Chris Gould, 2008 SPT Champion and rider, Fritz von Blottnitz and Jennette Coote.
Her Estonian background and affection for the Prussian horse led her to import Wermizel, a Wielkopolski stallion that subsequently stood at Olds College in Alberta and her connection with Big Ben influenced her decision to import the stallion Fantast who shared his parental sire. Syndicated, Fantast stood at MJ Farms, ultimately producing 146 CWHBA registered offspring.
These constitute part of the tangible legacy of Eve's contribution to the CWHBA, but she also had a far reaching personal impact. Those that had the privilege of working with her, experienced her generosity, humour, positivity and benefited immeasurably from her knowledge, which she was so willing to share. Eve possessed the greatest gift a teacher can have, the inquiring mind of a life long student.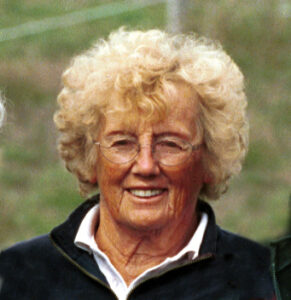 In 2003 Eve retired as Director for Ontario and was immediately inducted as Honourary Life Time Director of the Board; citing her unstinting generosity in volunteering countless hours as Senior National Inspector, since 1993 and Vice Chair, In this new role she continued to advise and encourage in every way she could. She is remembered with extreme fondness and will be missed with immense sadness. An era has ended.
To view more photos click here. Read Horse Sport Bio 2018  Read 95th Birthday story with extensive reminisces.