SILBERPFEIL * – Approved

Registry:
Holsteiner
100 Day Test – Switzerland
CWHBA #:
AB-APPR25-82 S
WFFS:
Not Tested/Not Declared
Date of Birth:
1982
Colour:
Bay
Height:
17.2 Hands
Owner:
Susanne Roth
Standing:
Frozen semen only
Contact:
Tammy Cruickshank
Address:
19 Lakeview Estates, Cochrane, AB T4C 2B2
Telephone:
403-816-6863; Fax:
E-Mail:
tjc@chorses.ca
Web Site: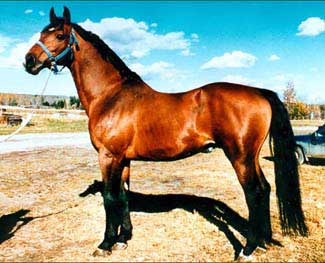 Comments:
SILBERPFEIL was an imported stallion with quality gaits and great disposition. He is registered with the Holstein Verband in Germany and with the Swiss Verband. He carries some of the best bloodlines of Holstein breeding.
His impressive pedigree, combines the famous jumping bloodlines of Silbersee and the bloodlines of the Cor de la Bryere, who has produced top performance horses in all three disciplines: dressage, eventing, and showjumping. His sire Silvester,has already entered the list of Holstein sires whose progeny are competition winners of some note.
SILBERPFEIL's dam Nancy, goes back to the great Cor de la Bryere, a producer of award-winning stallions and mares. The Cor de la Bryere can give more knee action than most but as this is combined with good shoulder movement, his progeny can 'snap up' their forelegs for jumping and extend them for dressage.
SILBERPFEIL's offspring show excellent movement, superb disposition, correct confirmation, and exceptional jumping ability. Most of the foals possess his size, his presence and well as his intelligent and kind nature. In Canada and the USA they are already proving themselves up to the open levels of show jumping. SILBERPFEIL has sired one licensed son, Silver Star. He is also the sire of Sierra Springs who took 1st place at the 2007 foal futurity & Grand Champion Young Horse at the CWHBA Southern Alberta Show.
Pictured below: Licensed son – Silver Star.
---
Silvester

Holsteiner

21 00885 78

Silbersee
Silver Matal xx
Cibelle A.N.
Hallig
Fantus
Wielen

Nancy

Holsteiner

21 00190 76

Convent
Cordelabryere
Astoria
Harlita
Wahnfried xx
Carlita
---
Breeding Fee: $400.00

Booking Fee: $0

Available by: Frozen Semen

LFG: No

Limitations:
NOTE:
The information on each stallion included in this Directory has been supplied by the owner. While every effort has been made to ensure the complete accuracy of all information, the CWHBA and its officers and officials make no claim or guarantee as to the accuracy of same and cannot be held responsible or liable for errors.
Close Window
---