T.W. VOLTAGE – Licensed

Registry:
CWHBA
Licensed – Red Deer
CWHBA #:
AB-[CAN]9079-16 S
WFFS:
Tested Clear (N/N)
Date of Birth:
2016
Colour:
Bay
Height:
16.1 at 2 yrs Hands
Owner:
Janine L Olson
Standing:
Bowden, Alberta
Contact:
Janine Olson
Address:
37130 Range Road 263, Red Deer County, AB T4E1H8
Telephone:
403-350-4062 403-886-2676 Fax: 403-886-4100
E-Mail:
janine@twowillowequine.com
Web Site:
Two Willows Equine.com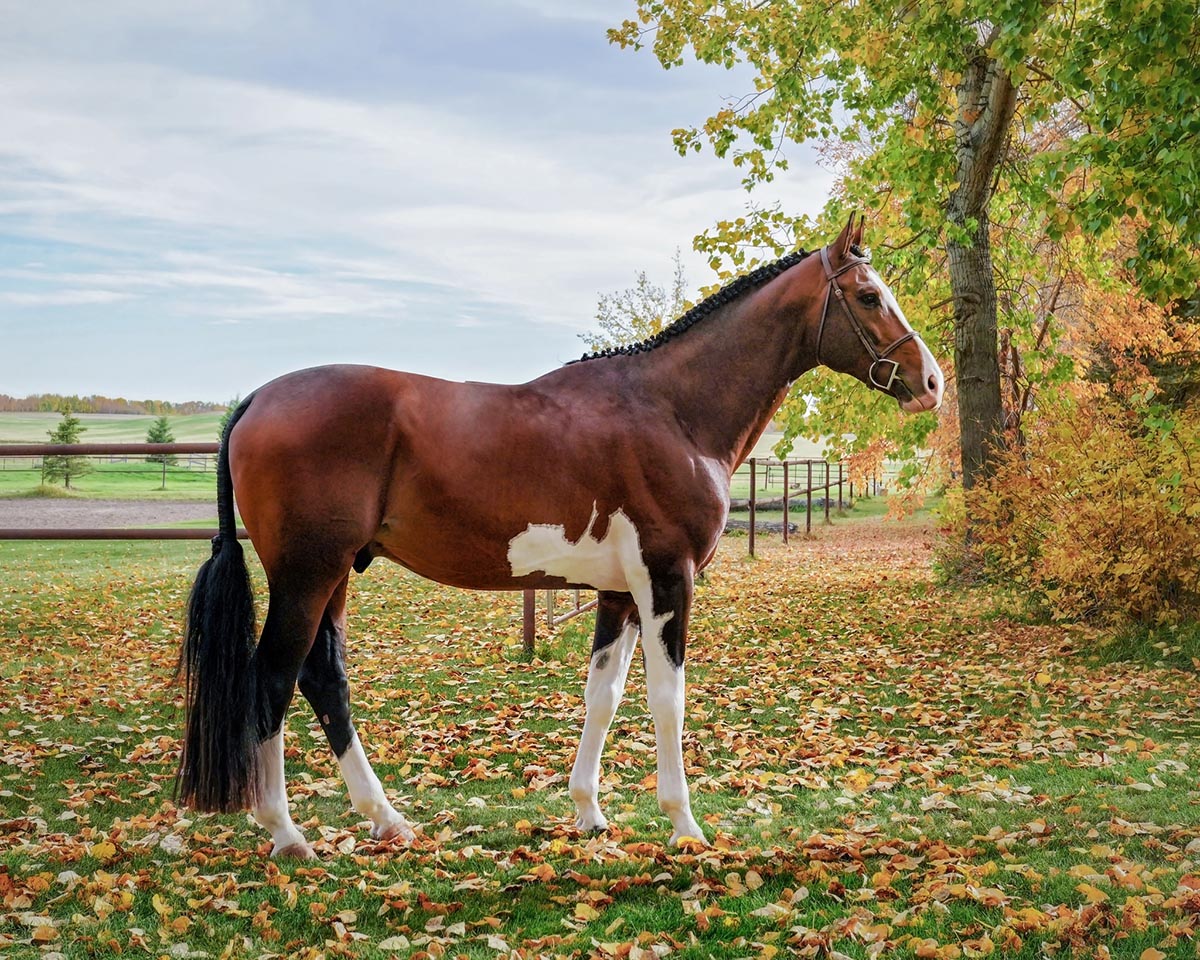 Comments:
Two Willows is proud to present an exciting new stallion to the North American market. Presented as a 2 yr old to the CWHBA they were impressed with his type,conformation (7.92), correctness of gaits (8) and saw a great future in this young stallion.

Voltage has presence, a gorgeous expression with a soft eye and his 'Bling' which is trademark from his sire Centim.

T.W. Voltage was lightly started in 2018 and met our expectations as a willing learner and a stallion who is eager to please his rider. A trait highly sought after in performance horses in the jumper-hunter rings where we see his future.

Sire: Centim (deceased) was a talented Imported Czech Stallion with the lines of Cassilius which include: Cassini I, Capitol I, Landgraf I. Centim was winner of his 100 day approval (2005) in Europe (Slovakia) with a super future ahead of him. He competed up to the 1.40 m classes overseas prior to being imported to Canada.

In Canada-USA Centim was shown in the Hunter- Derby classes with super technique and his eye catching Chrome was always trademark. Centim's progeny who are just beginning to enter the show ring are doing well in the Jumper-Hunter and Eventing disciplines.

Dam: Vera Lisa (KWPN) and premium scoring CWHBA main mare 15.3 1/2 HH boasts the lines of Metall, Olympic Ferro and Libero H.
– Metall son of Olympic Ferro competed to PR St George plus sired sons that competed in the young riders in Europe in Show Jumping.
– Libero H (1.60 stallion) is from the well known lines of Landgraf I- Ladykiller.
– Vera Lisa (deceased) brings to T.W. Voltage the foundation of great dressage and jumper lines that are evident in the use of body, shoulder and scope.

Dam offspring: T.W. Pillow Talk (mare) is a super example of the quality this dam line produce for future performance horses.

T.W. Voltage – An exciting young Stallion with a bright future.
---
Centim

Czech

AB-[CAN]APPR3791-02 S

Cassilius
Cassini I
Capitol I
Wisma
Ranka
Landgraf I
Jersey
Chimera
Dietward -4
Dietward Ii
Quoniam Ii
Bonita
Przedswit XX
Elektra

Vera Lisa

KWPN NA

AB-[CAN]APPR4262-02MM

Metall
Ferro
Ulft
Brenda
Edelweis
Ramiro
Astrid
Mona Lisa
Libero H
Landgraf I
Oktave
Hadjah
Beaujolais
Amora
---
Breeding Fee: $$1100.00

Booking Fee: $Included (Booking Fee Included)

Available by: On Farm A.I., Transported Cooled Semen,

LFG: Yes

Limitations: Limited Breedings Available for 2019
NOTE:
The information on each stallion included in this Directory has been supplied by the owner. While every effort has been made to ensure the complete accuracy of all information, the CWHBA and its officers and officials make no claim or guarantee as to the accuracy of same and cannot be held responsible or liable for errors.
Close Window
---