TRAMINO * – Approved

Registry:
Rheinlander
100 Day Test – Munster-Handorf
CWHBA #:
AB-APPR637-88 S
WFFS:
Tested Clear (N/N)
Date of Birth:
1988
Colour:
Dark Brown
Height:
16.2 Hands
Manager:
Mirrabook Farms Sport Horses
Standing:
AgWest, Langley, BC
Contact:
Marilyn Powell or Lynne Robinson
Address:
6388 Weir Rd., Knutsford, BC V0E 2A0
Telephone:
250-374-4045; Fax:
E-Mail:
inquire@mirrabookfarms.com
Web Site:
www.mirrabookrafter5warmbloods.com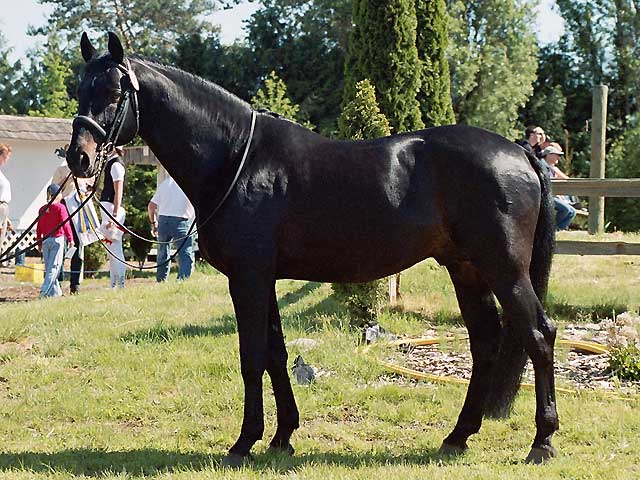 Comments:
Tramino is a modern warmblood stallion with excellent conformation, three good paces, superior rideability and an exemplary temperament.

He displays wonderful trainability with the character, conformation, presence and talent to produce winning rides at FEI Dressage, including Provincial and National Championships. He competed to Intermediare 1 with scores regularly in the high 60%. Retired from competition, he continued in a schoolmaster role schooling all Grand Prix movements with incredible strength and ease in his piaffe and a good passage.


Tramino was easy to handle, comfortable to ride with an exceptional canter, wonderful presence and charisma. He is a favourite of the barn with his sweet and willing personality and was regularly hacked by Young Riders. His foals show good size, his uphill construction, easy tractable temperaments and fabulous movement from the very beginning.


Approved: Westfalisches Pferdestammbuch e.V., Germany; Rheinisches Pferdestammbuch e.V., Germany; CWHBA; Canadian Sport Horse Association – Silver Premium.


At his Munster-Handorf 100 day test in 1993, he scored:- Character: 9.5; Disposition 9.0; Rideability 8.5; Trainability 8.0; Cross country gallop 8.5; Cross country jumping 8.0; Stadium jumping ability 9.25.


Tramino returned to the dressage arena in 2004 with 2003 Pan Am Games competitor, Esther Mortimer with great success, earning Hi-Score Prix St. Georges at the Southlands Spring Dressage Show their first show out. They had a successful year. Tramino retired from competition to a schoolmaster role with a Young Rider, enabling her to master the FEI movements to Grand Prix. Retired sound in 2012, when our farm relocated to the Interior BC, Tramino sadly passed in 2018. He also loved to jump!


He sired the 2002 Foal Futurity winner in B.C., Southern Tycoon. This charasmatic colt scored '8's across the board from Manfred Lopp, Dr Fredrickson and Jennette Coote – at the early age of 5 weeks. In 2009, he was sire of B.C. 3rd place Foal Futurity, Tolkien. In 2016 he was sire of the B.C. Foal Futurity Reserve Champion, Trumia MR5, now an inspected mare scoring an 8. Of Tramino's 15 daughters to be presented for CWHBA inspection 2005-2015, 11 earned premium scores ranging from 7.17 to 9.03 with consistently high marks for type, neck, saddle position and all fifteen mares earning at least '8' for swing and elasticity.

Tramino is available by proven Frozen Semen only, shipped from AgWest, B.C.
---
Pr.H. Traumprinz

Oldenburg

33 03554 85

Traumdeuter
Arogno – T
Flaneur
Arcticonius xx
Traumwolke
Patron
Traumlied
Bergfee V
Kronprinz xx
Nizam xx
Kaiserkrone xx
St.Pr.St. Bergfee
Orator
Berghueter III

Goda

Rheinlander

H.43 8569 81

Golan
Gottschalk
Gotthard
Landprinzess
Larissa
Lasso
St.Pr.St. Weintaube
St.Pr.St. Gemse
Garamond
Gabriel
Livia
Bergnixe
Bento
Goldmaerchen
---
Breeding Fee: $800 + GST

Booking Fee: $n/a (Booking Fee Included)

Available by: Frozen Semen

LFG: No

Limitations: FS only; additional FS available in the same season at nominal fee
NOTE:
The information on each stallion included in this Directory has been supplied by the owner. While every effort has been made to ensure the complete accuracy of all information, the CWHBA and its officers and officials make no claim or guarantee as to the accuracy of same and cannot be held responsible or liable for errors.
Close Window
---